Current
Host: ICOSA Collective Gallery, 916 Springdale Rd, Bldg 2, #102
Dates: August 2- August 9, 2021, Exhibition viewable 24 hours/day
This is an exercise in strategic thinking, aligning the few routes available to make the right moves. This is an exercise in positive visualization. Pool your resources and make your money work for you. Sage advice if there ever was any. Pool your money and then make more. Easy and repeatable. Back burner debt and lingering health concerns, the OSHA violations and baked-in inequities, and just roll it over. Easy and repeatable. Keep it rolling, like a tide. This is an exercise in strategically thinking visually positive.
TJ Lemanski generally works with refuse and construction materials, aiming for the serene but not pretending something isn't what it is. Materiality is an art word. He was the Fall 2020 artist-in-residence at Habitable Spaces, a sustainable farm and artist residency in Kingsbury, TX. He is also a member of the perma-hiatus collaborative projects Ink Tank and Free Beer Podcast (no longer searchable online so don't try). TJ lives and works as an art handler in Austin, TX.
Host: CAMIBart Gallery, 6448 Hwy 290 East, Ste. A102
Dates: July 30- July 31, 2021, 11am-6pm, no appointments necessary
A flat file pop-up exhibit of artwork from artist Orna Feinstein. Over the past 20 plus years, Orna Feinstein has explored her interests in the interior geometry of the organic, the concentric patterns of tree rings, the linear patterns of wood grain, and the cellular structure of a plant using a wide variety of materials and methods but most notably mono-printmaking.
Host: Link & Pin Gallery, 2235 East 6th St. #102
Dates: July 29- September 25, 2021
Link & Pin Gallery is delighted to welcome Thank you, Pandemic, featuring visual and musical artist, Rohitash Rao in a mash up of video, 2d and 3d works.
Rao is grateful for the opportunity to create that being in isolation for eighteen months provided.  Rao says:  the pandemic is horrible. It is an utterly terrible period in human evolution in every possible way. BUT…the one positive thing that it did for people like me is that it allowed me to be locked away in my studio for a year-and-a-half and just create.
In addition to paintings, the show will include showings of two music videos. The Fearless video is a Pink Floyd cover by BLUEOX.  All 3,771 frames of the video were created on a single piece of wood layered on top of each other. The final picture will be available.
Side Effects is a stop motion music video that highlights the effects of pharmaceutical drugs. Music:  Side Effects by Barling All. The individual dioramas will be available.
Curated by Vicki Meek
Host: Woman & Their Work
Dates: July 24 – September 21, 2021
As women and nonbinary artists march into the 21st Century, there are a myriad of possibilities regarding our placement in the annals of world history. We have seen promising movement forward while simultaneously watching that forward movement slip away in bits and pieces, both nationally and internationally. The proverbial two steps forward only to be knocked back four steps is an ever-present reality. The battle for equal rights seems never-ending.
We Know Who We Are. We Know What We Want. is an exhibition that examines how the idea of feminism continues to be one that has many definitions, depending on the lens through which it is viewed. Vicki Meek invited artists, "whose artwork and lives intrigue me and who all take an unapologetic view of their world, to come together in a collective conversation around issues of feminism and humanism. Each of them speaks their truth about belonging or not belonging, about sisterhood, about othering, about justice or injustice, and about the amplification of their voices on all of these topics."
The Artists: Nida Bangash, Lauren Cross, Rehab El Sadek, Angela Faz, Pallavi Govindnathan, Lahib Jaddo, Pat Johnson, Lovie Olivia, & Naomi Wanjiku Gakunga
Host: Yard Dog Art, 916 Springdale Rd, Bldg 3 – 104
Dates: July 23 – August 29, 2021
Yard Dog is pleased to present selections from Maine artist Michelle Hauser's ongoing series of Camera-less Photographic Paintings. In this series, photochemistry is used in lieu of traditional paint. Michelle paints with historic light-sensitive materials such as cyanotype directly onto rag paper in a darkened room. Once completely dry the painted surface is exposed to sunlight. In a cool bath of water, the exposure is fixed and her marks turn blue.
This way of transcribing brushstrokes and achieving color exploits the variation in tone that can be achieved with different exposure times––the longer the exposure the deeper the blue. She then alters many of the blue layers by submerging the paper into toning baths, using a variety of solutions to transform the blue into a spectrum of yellows, taupes, mauves, or eggplant hues. Michelle's idiosyncratic process builds up slowly over the course of twenty or so separate stages—sometimes introducing gum bichromate (photosensitized watercolor) into the mix. Each stage fixes her painted marks onto the paper as a unique layer that forms the final image.
Brushstrokes replace the need for a negative or an object as is the case in a traditional print or photogram. Unlike a Chemigram both light and chemistry are used to form the image. This work runs parallel to the groundswell of camera-less photographers working today and adds to the conversation of one-of-a-kind photographic imagery where all methods are in play.
Having made traditional photographic prints with these historic methods, Michelle has an understanding of how the materials will pre-form but it is not an exact science. She works intuitively allowing each layer to dictate how she will proceed. She embraces the limitations and challenges of working this way which force her to be more primitive in her expression.
Michelle's painting and photography practice have informed one another bringing about these hybrid works that reflect the historical dialogue and influence that has existed between these two mediums since the advent of photography.
Host: Big Medium, 916 Springdale Rd, Bldg 2, #101
Dates: July 17 – August 28, 2021, By Appointment Only
Big Medium is pleased to present Markers, the individual and collaborative work of Kel Brown, Russell Brxwn, and Emily Eisenhart. Exploring the rhythmic language of lines, color, and minimal paint strokes, these Austin-based artists are each leaving their marks across the city, working on the sides of buildings, the surfaces of everyday functional objects, textiles, and more. Their individual practices often involve and advocate for connection and community, transforming public spaces into intimate ones that keep our city visually dynamic and emotionally grounded.
To allow for social distancing, appointments will be scheduled every 30 minutes, with a maximum of 10 guests at a time. Scroll down to schedule an appointment with at least 24 hours advance notice. Masks are required at all times.
Host: Flatbed Center for Contemporary Printmaking, 3701 Drossett Drive, Suite 190
Dates: July 7 – August 21, 2021
Flatbed's legacy began in 1989 when founders Katherine Brimberry and Mark L. Smith started Flatbed Press in a 1910 era warehouse located at 912 West 3rd Street.  During the first ten years at the 3rd Street location and the first five years at Flatbed's next location , 2830 East MLK Jr. Blvd., Flatbed flourished and established a reputation for making fine art prints full of the punch and grit of Texas printmaking.  Nationally recognized artists came to work in the studio along with artists from Austin and other Texas cities.  Flatbed, which is now located in its third location at 3701 Drossett Drive, has expanded its mission and flies under the DBA of Flatbed Center for Contemporary Printmaking.  Still collaborating and creating etchings, lithographs, woodcuts and monotypes with emerging and celebrated artists, Flatbed also fosters Austin artists, offers workshops and exhibits printmaking works.
The Way Back Show presents selections from the first fifteen years and shows the spirit of adventure, experimentation and expertise that became Flatbed's hallmark. Selected works are by:  John Alexander, Terry Allen, Michael Ray Charles, Kelly Fearing, Trenton Doyle Hancock, Jack Hanley, Sandria Hu, Luis Jimenez, Robert Levers, Melissa Miller, Celia Muñoz, Linda Ridgway, Dan Rizzie, Larry Scholder, James Surls, Frank X. Tolbert 2, Liz Ward and Bettie Ward.
Host: Ivester Contemporary, 916 Springdale Rd, Bldg 2, #107
Dates: July 2nd – August 7th, 2021
Through a Hinge Made Oblique explores ideas of blurred boundaries and futility of containment by depicting the grotesque as the embodiment of conflict between art and nature. Patterns become the spells that open fictive portals through which the grotesque is observed, confined to and defined against the beauty of an imagined world, where there exists a place they can be works of nature, works of art, or both at the same time.
Big Chicken & Baby Bird is a collaborative project between Tsz Kam and Nat Power. The artists met while studying at The University of Texas at Austin, where they obtained their BFAs. They formed the collective duo Big Chicken & Baby Bird, and have been collaborating since 2015.  Their collaborative work centers around the experience of shifting between girlhood and womanhood within the ambiguity of gender. Through paintings, sculptures and installations, Kam and Power create a new mythology by staging fantasies within domesticity, where objects and figures become characters with inevitable roles to play in seduction and repulsion.
Tsz Kam (Big Chicken) was born in colonial Hong Kong and moved to Texas at age 13. Kam's family history of being political refugees of communist China runs parallel to their own escape from Hong Kong culture. As a first generation immigrant, Kam explores the outsider and insider perspectives through the lens of a gender non-binary person, both when observing American culture and looking back at their Sino roots. By using escapism and nostalgia as an expression, Kam reestablishes a sense of belonging through their works.
Nat Power (Baby Bird) was born and raised in Texan suburbia. She relocated to complete her BFA at UT Austin in 2016 and has since continued to work in Austin as a painter and printmaker, as well as recently beginning study as a tattoo apprentice. Power serves as the art director of local DIY wrestling promotion Party World Rasslin', and takes influence from the narrative and formation of character presented in pro wrestling. Her work observes the manifestation of feminine rage and its suppression, depicting characters that stall on the boundary between acceptability and anger.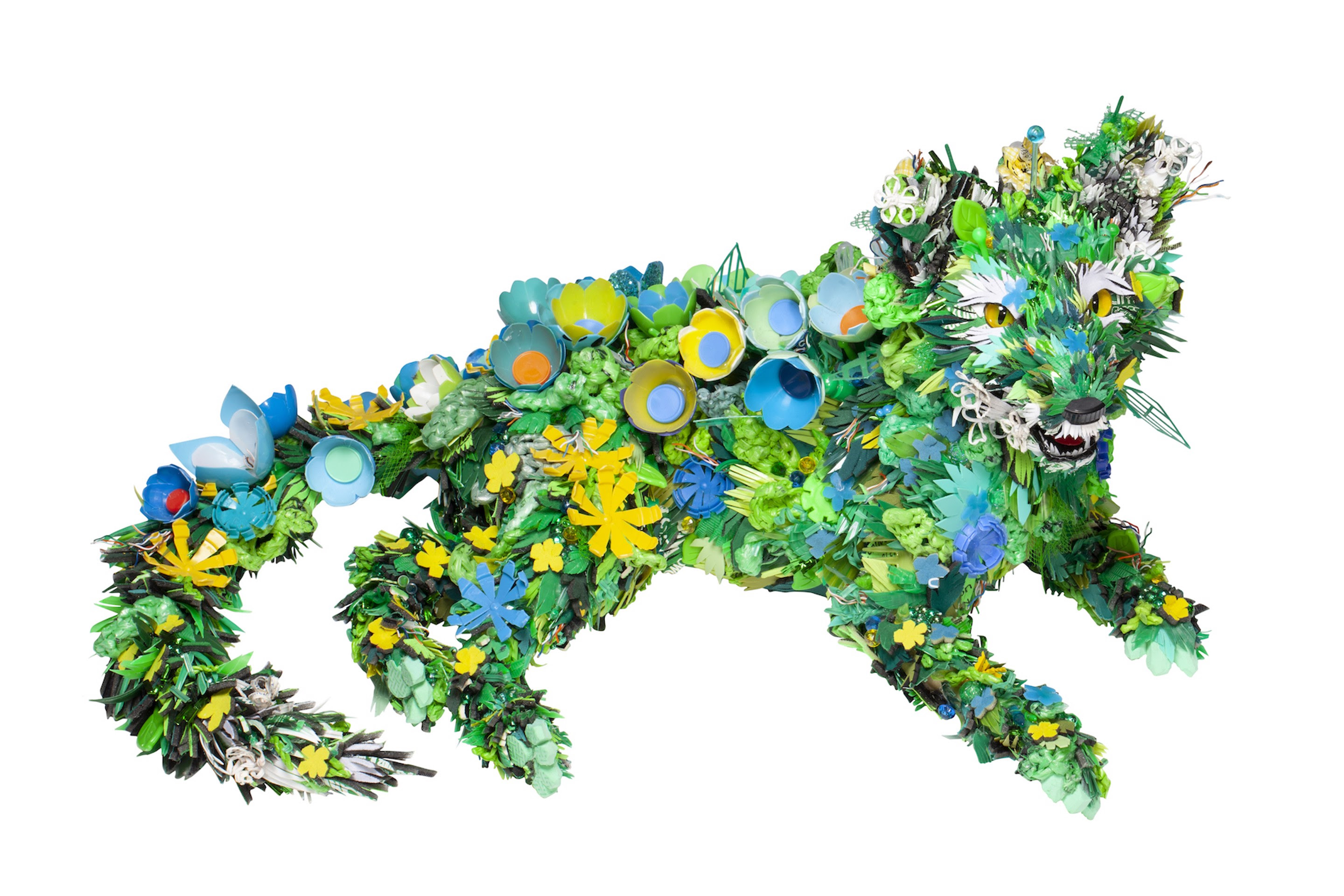 Host: Ivester Contemporary, 916 Springdale Rd, Bldg 2, #107
Dates: July 2nd – August 7th, 2021
Ivester Contemporary is proud to present, A World Without Waste, an exciting and immersive installation by Calder Kamin featuring an artificial forest floor, complete with eleven animals, all sculpted out of cleaned, stripped, and repurposed garbage. This ongoing series of sculptural works began in 2012 after Kamin observed bird's ability to be resourceful and reuse human plastic waste to build their nests. By creating wildlife and their habitats out of discarded plastic, Kamin is simultaneously celebrating the beauty of Nature and encouraging her audience to be more environmentally conscious.
Kamin's creative reuse art projects and public workshops have traveled to museums across the states including The Crystal Bridges Museum of American Art American, The American Museum of Natural History, The i.d.e.a. Museum, and the Galveston Arts Center. Plastic Planet, her 2016 solo exhibition at Women & Their Work, was supported by a Mid-America Arts Alliance Artistic Innovations Grant and the subject of an episode for the PBS series Arts In Context. She was the Utah Museum of Contemporary Art's Art Truck Artist, the first Artist-in-Residence at the Beach Museum of Art, and Artist-in-Residence at the DoSeum, San Antonio's Children's Museum, which earned Kamin's second Mid-America Artistic Innovations Grant for the culminating exhibition. Kamin recently partnered with Disney to celebrate the 30th Anniversary of the Little Mermaid to inspire their audiences to transform trash into art.  She sculpted a portrait of Ariel and appeared in two promotional commercials on the Disney Channel.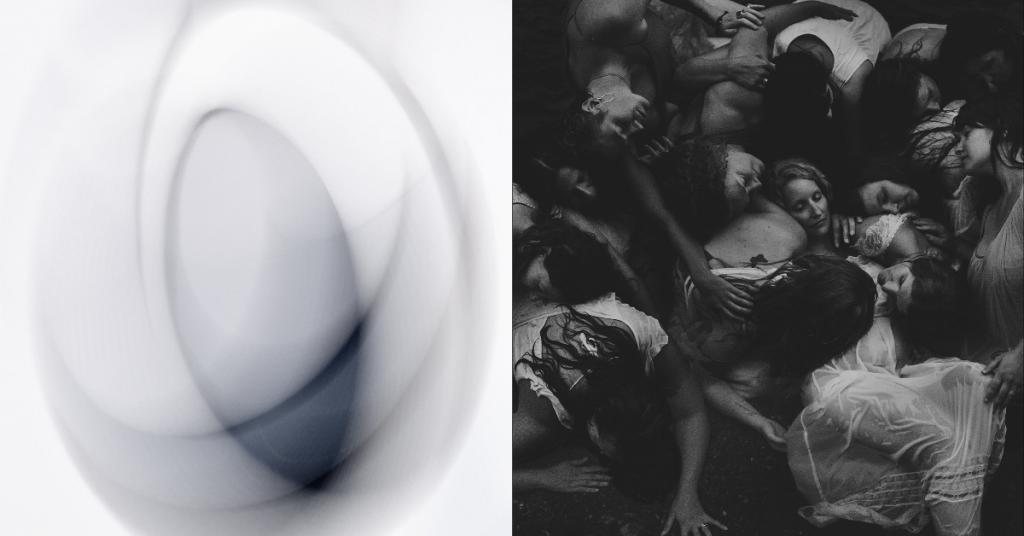 Host: Dougherty Arts Center, 1110 Barton Springs Road
Dates: June 28 – August 30, 2021, Free By Reservation Only
The Dougherty Arts Center is proud to host two Austin-based artists this summer, Sarah Luna and Michelle Gardella! Both artists will exhibit their work in the JCB Gallery at the Dougherty Arts Center. Viewing is available by reservation only. Masks are strongly suggested. There will be no public restrooms at this time.
About Sara Luna: With a background in spiritual psychology, Luna is attuned to the essence behind all acts of creation. Her approach to the visual world is from a perspective of open curiosity and wonder. The subjects used in her series luminous mo:ments are ordinary materials that conceal an inner life that is revealed through the photographic process. As a result, the nature of the images in this body of work is mysterious and indecipherable, as if viewed through a veil. This process of sculpture and photography, use of color, energy, and form, creates a visual poem – a fluid, meditative, and thoughtful space for viewers to experience the work.
About Michelle Gardella: Gardella's ongoing portrait series of women, River Story, spans twelve years and multiple rivers found across the United States. Her photographs draw upon her own experiences of poverty and adoption, and explore what it means to belong. By capturing intimate moments between women and their families, she investigates what truly makes us who we are when the cultural definitions of class, success, and identity are removed. In doing so, the artist is able to inch closer to her own understanding of self and belonging.
Black Is Beautiful: The Photography of Kwame Brathwaite
Host: Blanton Museum, 200 E Martin Luther King Jr Blvd
Dates: June 27 – September 19, 2021
In the late 1950s and throughout the 1960s, Kwame Brathwaite (b. Brooklyn, 1938) used his work to popularize the political slogan "Black Is Beautiful." This exhibition, the first ever dedicated to Brathwaite's remarkable career, explores Brathwaite as a key figure of the second Harlem Renaissance.
Organized by Aperture Foundation in partnership with Kwame S. Brathwaite, Brathwaite's son and Director of the Kwame Brathwaite Archive, the Blanton's presentation features more than 40 photographs, most shot in Harlem and the Bronx, accompanied by contemporary jewelry and clothing, album covers, and reproductions of vintage posters.
Brathwaite's photographs document the stories of the Black men and women who changed the political and cultural landscape by challenging notions of beauty and disenfranchisement. In the preface to the publication accompanying the exhibition, Brathwaite, who diligently preserved his photo negatives, remarks, "There's so much history that must be made, so much to share. As the Keeper of the Images, my goal has always been to pass that legacy on and make sure that for generations to come, everyone who sees my work knows the greatness of our people."1
The exhibition is accompanied by the first-ever monograph dedicated to Kwame Brathwaite. Featuring in-depth essays by Tanisha C. Ford and Deborah Willis and more than 80 images, Kwame Brathwaite: Black Is Beautiful (Aperture, 2019) offers a long-overdue exploration of Brathwaite's life and work.
Suzanne Bocanegra: Valley 
Host: Blanton Museum, 200 E Martin Luther King Jr Blvd
Dates: June 27 – September 19, 2021
Suzanne Bocanegra's Valley is a multi-channel video installation of eight women simultaneously reenacting Judy Garland's wardrobe test for the movie Valley of the Dolls (1967), based on Jacqueline Susann's best-selling novel of the same name about women undone by pills and show business. Since Susanne had drawn on details from Garland's real-life struggles with drugs and men, she was cast in the film adaptation to give it authenticity. Fired after only a few days of filming, Garland took the costumes with her and wore them in concerts until her death from a barbiturate overdose in 1969.
The wardrobe test is the only footage of Garland from the film that survives; in it, she poses and turns at the bidding of an off-screen director, uttering the occasional nervous quip. Despite having grown up a star, she appears self-conscious and unsure of herself in front of the camera. "Garland wasn't really acting in the wardrobe test for Valley of the Dolls, but in a sense, she was," said Bocanegra. "She was trying hard to convince the director and crew that she was still dependable, trying to hide her exhaustion and fragility, performing the role of 'Judy Garland.' The exhaustion and fragility are what we end up seeing. I wanted to reframe it by casting these eight powerful women, using their strength to spotlight the exploitation of women in film and popular culture."
Valley debuted in 2018 as part of a solo exhibition at the Fabric Workshop and Museum.
Host: ICOSA Collective Gallery
Location: The Bartlett Project, 221 E. Clark St. Bartlett, TX
Dates: June 12 – August 21, 2021
As part of a longer revitalization plan for the town, the Bartlett Project is the first of many projects meant to bridge communities, provide space and resources, and give voice to the many stories and histories of Bartlett. This exhibition will open on Saturday, June 12, at 1pm, and will be followed by a series of events including a tour of the town, an architecture tour, and an outdoor movie screening. All events are meant to show off the town, provide moments of interaction, and keep Bartlett as the main protagonist. 
The opening reception is free and open to the public, and subsequent events are a $10 suggested donation benefitting the American Legion post 183, the Bartlett Activity Center, and the Bartlett Chamber of Commerce. A schedule of events and RSVP link can be found at: https://www.icosacollective.com/bartlett
Please RSVP in advance.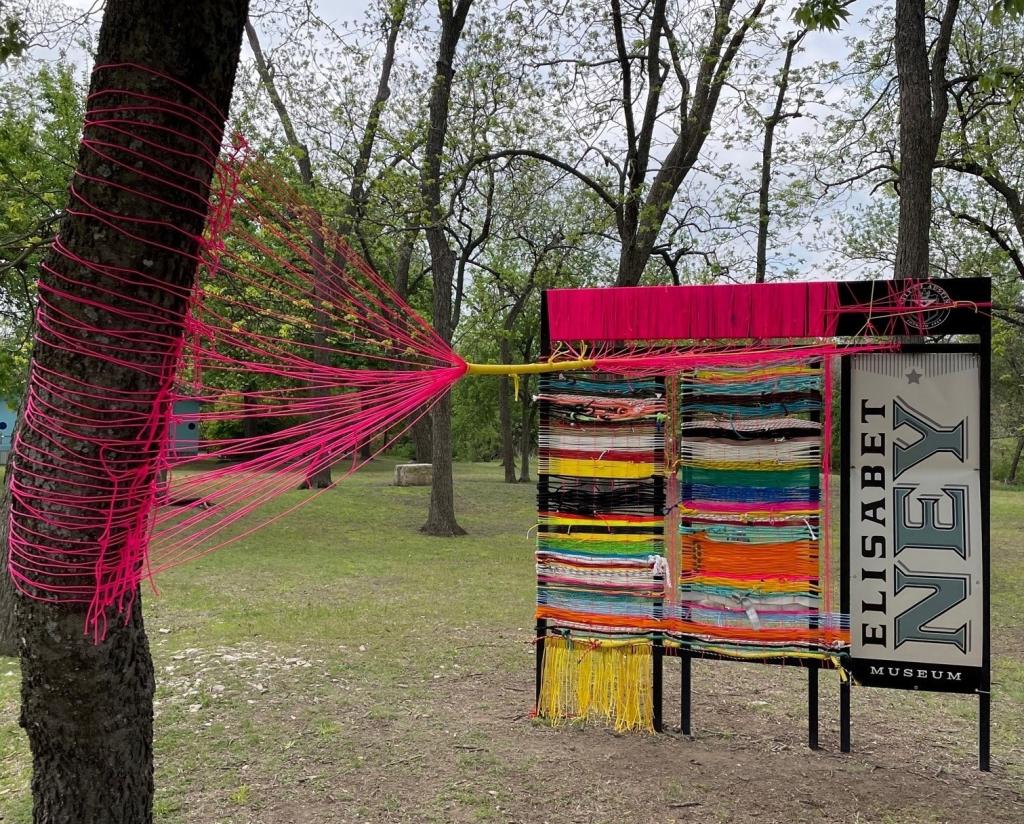 Host: Elisabet Ney Museum, 304 East 44th Street

Dates: June 9– October 24, 2021
The Elisabet Ney Museum is proud to present "Reweave: 2021," an exhibition of works indoors and outdoors by Austin artist Jade Walker. The show consisting of two parts: Mire + Mend, which is outside the Elisabet Ney Museum, on its grounds; and Birdsong, located inside the Museum. There is also a virtual component, found here. Intended to reflect community bonds through intersections in fabric and weaving, Reweaving refers to the art of repairing damage to a garment in a virtually invisible way by hand weaving new material and replicating the garments original structure as closely as possible. Both Mire + Mend and Birdsong utilize similar weaving structures but one asks others to bring their own materials and take part in a communal fashion to mend while the other advocates observation and action through other means. Together these works create the overall project, Reweave: 2021.
Host: Blanton Museum, 200 E. Martin Luther King Jr. Blvd.
Dates: May 29 – December 5, 2021
The Blanton Museum of Art at The University of Texas at Austin announces Sedrick Huckaby, the eighth Contemporary Project in the series. Painted from life with richly layered brushwork, the large-scale oil portraits by Fort Worth, Texas artist Sedrick Huckaby embrace families and people in his community. Several of these works are on public view for the first time, including one of the only portraits done from life of George W. Bush, who studied painting with Huckaby, and The Huckabys, a new six-part portrait of Huckaby families in North Texas that reflects on what binds us to people with the same last name. Another monumental work in the exhibition, Summer: Love Supreme (above), celebrates his family's quilts, an art form that appears throughout the exhibition. Huckaby, whose work draws inspiration both from African American heritage and his hometown, noted, "One of the things this exhibition is about is a patchwork of our communities—the connections between people."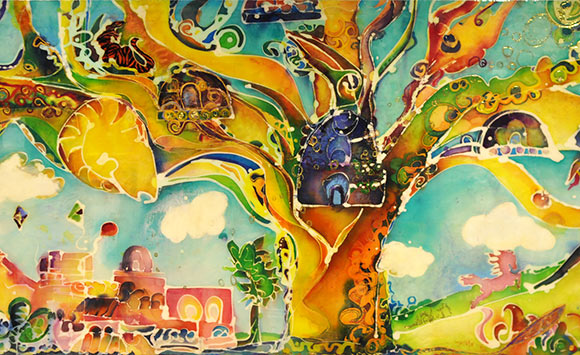 Host: Austin Public Library, Virtual Exhibition
Dates: May 1 – December 31st, 2021
Rakhee Jain Desai is an interdisciplinary artist whose work creates dialogue about immigrant identity and belonging.  Her current body of work utilises the centuries-old, wax-resist textile technique, Batik. The combination of Batik, an Eastern craft, with traditionally Western mediums (encaustic, oils and acrylics) is a signature process.
Rakhee has exhibited across the USA, Singapore and Portugal. She was selected as a featured artist for the Imago Mundi Benetton Foundation – representing Singapore's contemporary art in the 21st Century & Beyond. She was the first cohort recipient of the Tempo2D program by the City of Austin Art in Public Places. The Batik mural named 'A Place To Call Home' is now on permanent view at the Austin Bergstrom International Airport.
Host: The Contemporary Austin-Jones Center, 700 Congress Ave
Dates: January 23 – August 15th, 2021, reserve tickets here
Deborah Roberts (American, born 1962 in Austin, Texas) critiques notions of beauty, the body, race, and identity in contemporary society through the lens of Black children. Her first solo museum presentation in Texas, I'm, is part of The Contemporary Austin's participation in the Feminist Art Coalition, a nationwide initiative of art institutions to generate awareness of feminist thought, experience, and action through exhibitions and events.
Host: The Contemporary Austin-Jones Center, 700 Congress Ave
Dates: January 23 – August 15th, 2021, reserve tickets here
Torbjørn Rødland (born 1970 in Stavanger, Norway) works with analog technology and readymade spaces to create photographs that render the everyday uncanny. His images blend the cool, seductive aestheticism of commercial and fashion photography with the layered complexity of a conceptual practice, resulting in ambivalent perspectives that both attract and repulse. This contradictory stance is intentional, the artist's careful positioning of his work within a fugitive field. From the media-savvy reality critique of 1980s Pictures Generation–era artists, à la Cindy Sherman and Richard Prince, to the seemingly captured moments of Nan Goldin and Larry Clark or the rigorous conceptualism of Christopher Williams and John Baldessari, practitioners working in photography in recent decades have sought to upend notions of authorship and originality in representational imagery while grappling with the concerns of conceptualism within a medium that is inherently grounded in reality. Concurrently, the advent of digital photography has both expedited and removed uncertainty from the process, rendering the analog formats Rødland uses a specialization.
Host: Mexic-Arte Museum, 419 Congress Ave
Dates: December 19, 2020 – August 22, 2021
Mexic-Arte Museum presents the exhibition Mexico, the Border and Beyond: Selections from the Juan Antonio Sandoval Jr. Collection.  In early 2020, Mr. Sandoval, a now retired reference librarian and subject specialist for art and Chicanx studies at The University of Texas at El Paso, donated his vast collection to Mexic-Arte Museum, which he had amassed over 30 years. The Sandoval Collection is comprised of over 1,500 artworks, many of them created by Mexican and Latinx artists. It includes prints, photographs, paintings, sculptures, and popular art from the El Paso region, as well as Mexico. The Collection also contains hundreds of publications, and ephemera. Juan Sandoval's dedicated patronage to the arts is a monumental achievement, and his legacy will allow generations today and in the future to engage with important works. Mexic-Arte is grateful that Juan Sandoval chose to donate his work to the Museum.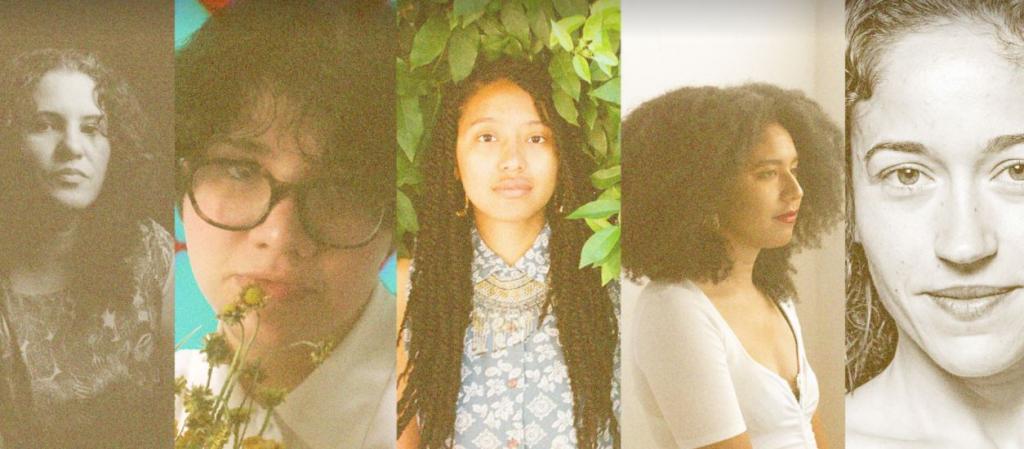 Host: Emma S Barrientos Mexican American Cultural Center
Dates: Ongoing, Virtual Exhibition Here
MULTI is a virtual exhibit curated by The Projecto's Coka Treviño which will be featured in The ESB MACC's annual La Mujer celebration. MULTI tries to express a few of the many dream-states that our life as Mexican and Mexican American women have internalized in and outside of contemporary colonialism, and how we're collectively trying to unlearn and find our own, authentic voices.
The artists of MULTI are: Poet and writer Ariana Brown; Photographer and Designer Patricia Carrington; Performer and Video artist Fina Ferrara; Contemporary artist and visual activist Irene Antonia Diane Reece; and experimental video and sound artist Natalia Rocafuerte provide us with different views of Mexicanidad and the Latinx experience.
Multidisciplinary, Multifaceted, Multicultural; Resilient Artists that have grown, reached, and accomplished trusting their own strengths, and resources. Womxn that have dared to dream a different life.
Host: The Contemporary Austin-Laguna Gloria, 3809 West 35th Street

Dates: Ongoing
The Contemporary Austin's Betty and Edward Marcus Sculpture Park at Laguna Gloria is named in honor of a founding grant by the Edward and Betty Marcus Foundation. This contemporary art destination presents exhibitions and permanent outdoor art installations on a site of great natural beauty on Lake Austin.
A complement to the Jones Center, The Contemporary Austin's downtown location, the Betty and Edward Marcus Sculpture Park at Laguna Gloria is committed to a vibrant, engaging program of exhibitions alongside thoughtful land stewardship. The Edward and Betty Marcus Foundation's gift allows for the commissioning, exhibition, and acquisition of new works of art by leading international contemporary artists as well as the preservation of the works and Laguna Gloria grounds. The gift celebrates Betty Marcus's great passion and vision for the arts, especially in outdoor settings.
With diverse ecology—including woodlands, meadows, gardens, and waterfront and a rich array of flora and fauna—Austin's historic Laguna Gloria is a precious reserve of natural beauty, and a welcoming art-in-nature site, in the heart of the city.
Upcoming
Host: Camiba Gallery, 1202 West 6th Street, 6448 Hwy 290 East, Ste. A102
Dates: August 5 – 28, 2021
Camiba Gallery in Austin is pleased to announce the opening of Kate Bradshaw-David's solo exhibit, Synergy & Synthesis.  The exhibit opens on Thursday August 5th with an in-person reception from 6 to 8pm, and runs through Saturday August 28th, 2021.
Working on wood panels and paper, Kate uses gouache and acrylic to create artworks that engage viewers by immersing us in imaginary abstract worlds of color, line and visual texture. While using both contrasting and complementary colors, she develops forms using ideas of repetition, tessellations, microscopic vs. macroscopic, and the organic flowing forms of fluid dynamics.
In her most recent artworks, she continues to explore the emergence of meaning from pattern, using color as a guidepost and detail and repetition as grounding facets of her artistic practice.  The subtle expression of the artists hand in the final creation is critical to the viewers experience of color and movement.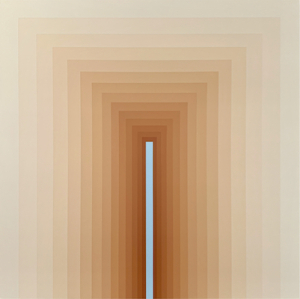 Host: Wally Workman Gallery, 1202 West 6th Street
Dates: August 7- 28, 2021
On Saturday, August 7th, Wally Workman Gallery presents NEFELIBATA: Cloud Walker by painter Sarah Ferguson. Nefelibata is a Portuguese word meaning cloud walker, derived from 'nephele' (cloud) and 'batha' (a place where you can walk). Ferguson interprets this as an invitation for reflection; reflection of what we see in others as well as ourselves. These paintings explore that idea through their unifying sky blue center and their differing outer diffusions of color. Playing with the infinite trifecta of light, color and perception, Ferguson's systematic compositions produce visual effects of surprising subtlety.
Sarah Ferguson is an admirer of the Light and Space art movement, Minimalism, Hard-edge painting and Geometric abstraction. She lives and works in Austin, Texas.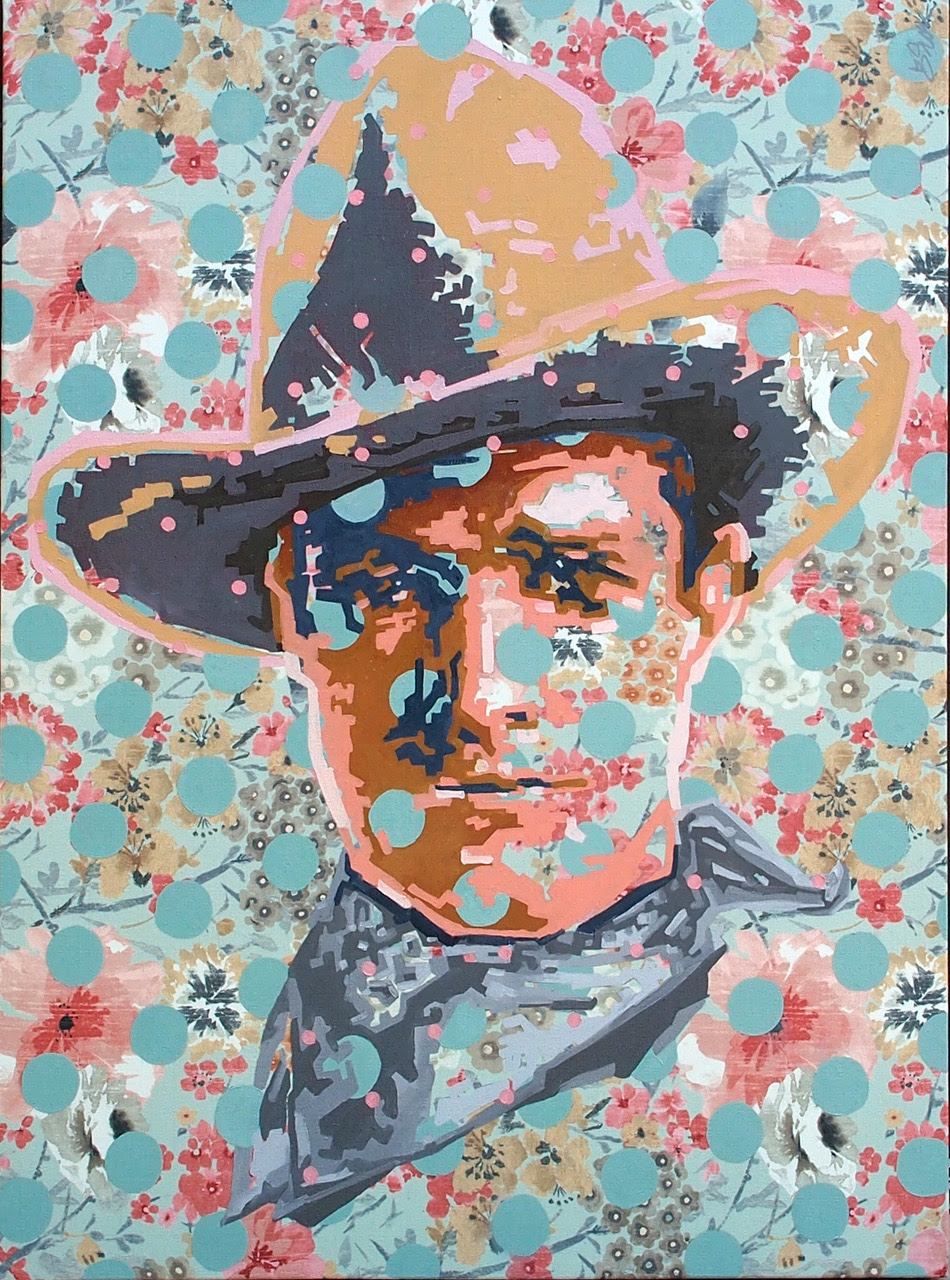 Host: Davis Gallery, 837 W. 12th Street
Dates: August 7- September 25, 2021
Davis Gallery is pleased to announce Flora and Fauna, an extensive group exhibit focused on the depth and variety of Davis Gallery's family of artists. Works ranging from deep layered collage to sublime still photography. From bold primal sculptures and large vibrant colorful paintings to intimate explorations of the human condition. Flora and Fauna will showcase works on hand, and ready for purchase, that we see as the best of Austin and Central Texas visual art.
Host: ICOSA Collective Gallery, 916 Springdale Rd, Bldg 2, #102
Dates: August 13- September 11, 2021
A Sharp Softness explores a balance of industrial materials manipulated to feel organic, with organic materials labored to an architectonic and industrial feel. The exhibition features new bodies of work by Mai Gutierrez and Suzanne Wyss. Both artists explore reusing materials in a non-traditional way, piercing the space to create movement and shadow through their use of dimensionality. The use of bright pink flows through the space, a color when found in nature draws you in but might also repulse you. The artist's dissimilar yet complementary perspectives play with each other, creating a bright and curious experience that engages the senses.
Mai Gutierrez is a multi-disciplinary architectural designer and artist living in Austin, TX. She earned her BFA and Masters in Architecture from the Savannah College of Art and Design in 2010. Born and raised in Monterrey, Mexico, she sources her inspiration from architecture and nature by using natural elements in her work such as stone, wood and metal labored to display an architectural aesthetic. Her work has been exhibited in the United States and Mexico. Gutierrez' current practice consists of architectural and interior design services, millwork design and fabrication, as well as sculpture and public art.
Suzanne Wyss is a multi-disciplinary artist focusing on large scale installation and sculpture, transforming industrial materials into organic forms. Wyss received her MFA in sculpture from Indiana University in 2013 and her BFA in sculpture and ceramics from the University of Minnesota, Duluth in 2010. She originates from the Black Hills of South Dakota. Wyss has shown her art throughout the Midwest and as far away as Osaka, Japan. Since becoming a Texan in 2013 her most notable previous works are a permanent installation at Springdale General, Thinkery ATX, and a site-specific installation for the Facebook Artist in Residence Program. Wyss is currently working towards her masters in Landscape Architecture at the University of Texas at Austin to further explore the integration between sculpture and landscape.
Host: Ivester Contemporary, 916 Springdale Rd, Bldg 2, #107 
Dates: August 13- September 11, 2021
Ivester Contemporary is excited to announce our summer group show, Fortune Teller. This exhibition's title was presented to a selection of Texas based artists for their own interpretation. Fortune Teller is being presented in reaction to the previous two year's unpredictability and the future's uncertainty, but ultimately the goal of this exhibition is to communicate the fact that many of the outcomes we as individuals and as a whole may face are within our control.
Host: Flatbed Center for Contemporary Printmaking, 3701 Drossett Drive, Ste. 190
Dates: August 28 – October 9, 2021
Announcing an exhibition of new work by Byron Brauchli titled Rios de Vida (Rivers of Life). This exhibition and Brauchli's soon-to-be-released book with the same title are the fruits of a photographic project that has occupied the view and lens of Brauchli over the last years. Brauchli deployed multiple techniques in his investigation including photogravure, cyanotype, platinotype, and more. His images are drawn from the Rio Grande River from its source in Colorado to its finish at the Gulf of Mexico. His lens captures images warning us of the contradictory processes of modernity and its impact on natural and social environments.
Brauchli (Boulder, Co. 1960) specializes in Mexican-American visual studies and Nineteenth-Century photographic processes. He holds an M.F.A. from the University of Texas at Austin. He has taught at such institutions as the University of Texas at Austin, Centro de la Imagen in Mexico City, among others. Currently, he is a researcher at the Institute of Arts at the University of Veracruz. His current project, Rios de Vida, is on exhibit at multiple venues around Mexico, the USA, and Spain.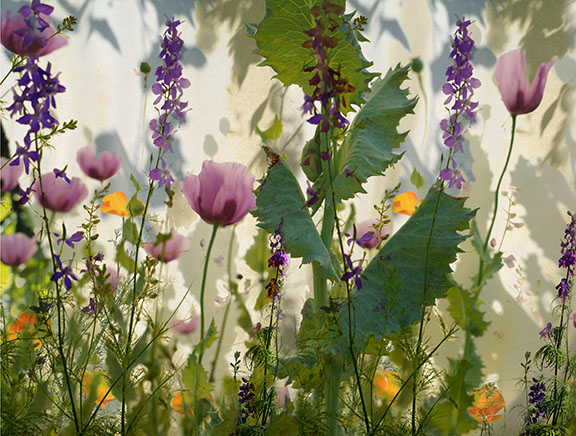 Host: grayDUCK Gallery, 2213 E. Cesar Chavez St.
Dates: August 28 – October 3, 2021
Time Being is a body of photographs and photographic collages I made during the Covid pandemic. Likely caused by the horrific mistreatment of animals in an unregulated meat market, the pandemic raises questions about the pace of our lives and the damage that we do by separating ourselves from the rest of nature. These questions inform the making of the work in Time Being, which embraces rest, recovery, and the fabric of communities during a time when I found that tuning in more deeply, and caring for the ecosystem right around me – one that includes my family, gardens, creeks, neighbors, animals and myself – offered me a sense of peace and purpose, and a closer view of what a more sustainable future might look like.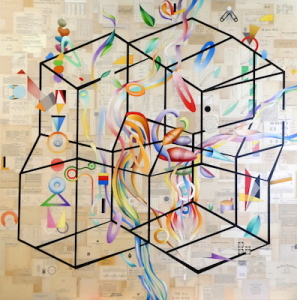 Host: Wally Workman Gallery, 1202 West 6th Street
Dates: September 4 – 26, 2021
On Saturday, October 4th, Wally Workman Gallery opens a solo show, Variations, with Austin artist Helmut Barnett. Starting in a loft studio on what was in 1975 a quiet Congress Avenue and now working in a 100 year old house on the east side, Barnett has been a part of the evolving Austin art community for over 45 years. This upcoming show exemplifies the range of Barnett's talent, featuring geometric and organic forms on large canvases as well as large scale collages incorporating found material.
Born in Stuttgart, Germany in 1946, Barnett moved to Abilene, Kansas in 1957. After finishing high school in Chicago and four years service in the Air Force, he moved to Austin, Texas and graduated from the University of Texas with a Bachelor of Fine Arts degree in 1974.
Host: Blanton Museum, 200 E. Martin Luther King Jr. Blvd.

Dates: September 4, 2021 – February 20, 2022
A key figure in the development of color-field painting, Helen Frankenthaler (1928–2011) was a tireless experimenter with color, form, and technique over the course of her life. When Frankenthaler began creating prints in 1961, she had to adapt to a medium that would involve collaboration and a new language of printmaking techniques. Asking questions that began, 'Suppose I do…' or 'Suppose I try…' she approached lithographs, screenprints, etchings, and woodcuts with curiosity and vision. She, along with other artists, contributed to a printmaking renaissance in the mid-20th-century. This exhibition celebrates the generous gift from the Helen Frankenthaler Foundation of ten prints and six proofs that span five decades of the artist's career. Her work is joined by that of other artists in the Blanton's collection using the medium of print to capture and translate their own abstract visions.
Host: The Contemporary Austin-Jones Center, 700 Congress Ave
Dates: September 11, 2021 – January 16th, 2022
Crit Group Reunion brings together artists who have participated in the museum's Crit Group program, showcasing the spectrum of contemporary art in Austin. With seven to eight artists participating each year, since its founding Crit Group has generated a network of approximately sixty artists working in various artistic mediums—from painting and sculpture, textiles and ceramics, to performance, video, and sound installation. Accompanied by a range of programs and artist-led workshops, the exhibition will be presented in two chapters, with a gallery changeover midway through the exhibition, to celebrate Austin's dynamic artistic community.
Running annually since 2014, The Contemporary's Crit Group program has strived to support local artists in making new work, building community, and growing a professional practice. This highly selective program has brought together artists with a range of personal and educational backgrounds, as well as native Austinites and those who had recently relocated to the city. The Crit Group program aims to support these artists in experimenting and expanding their creative practices in new directions. In the spirit of extending this ethos, Crit Group Reunion will gather former program participants in a single exhibition for the first time, presenting a range of new and recent works and fostering a timely sense of togetherness.
Host: The Contemporary Austin-Jones Center, 700 Congress Ave
Dates: September 11, 2021 – March 20th, 2022
Organized by The Contemporary Austin, Daniel Johnston: I Live My Broken Dreams is the first-ever museum survey of works by the visionary musician and visual artist Daniel Johnston (1961 – 2019). Best known for his music, Johnston was also an accomplished artist who exhibited his comic-inspired drawings during his lifetime. Yet, apart from his iconic "Hi, How Are You?" mural, painted in Austin in 1993, his abundant visual art remains little-known to most audiences. This exhibition will provide a rich presentation of Johnston's work across disciplines, enabling visitors to explore the intricate connections between his prolific corpus of music and visual art. In addition to a selection of Johnston's drawings and paintings, the presentation will include the artist's home-recorded music and movies, as well as documentary footage of him rehearsing and performing. Rounding out the presentation with an array of ephemera and material culture—from concert posters, hand-made tapes, and Johnston's notebooks to vinyl records, comics, and toys from his vast collections—the exhibition will delve into the artist's process and his work in context. In conjunction with the exhibition, The Contemporary will also present collaborative public programs and performances, offering ample opportunities to explore Johnston's legacy in depth.
Host: Art Galleries at Black Studies- Christian Green Gallery, 201 E. 21st St.

Dates: September 16 – December 12, 2021
The artists featured in The Black Index—Dennis Delgado, Alicia Henry, Kenyatta A.C. Hinkle, Titus Kaphar, Whitfield Lovell, and Lava Thomas—build upon the tradition of Black self-representation as an antidote to colonialist images. Using drawing, performance, printmaking, sculpture, and digital technology to transform the recorded image, these artists question our reliance on photography as a privileged source for documentary objectivity and understanding. Their works offer an alternative practice—a Black index—that still serves as a finding aid for information about Black subjects, but also challenges viewers' desire for classification.
The works in The Black Index make viewers aware of their own expectations of Black figuration by interrupting traditional epistemologies of portraiture through unexpected and unconventional depictions. These works image the Black body through a conceptual lens that acknowledges the legacy of Black containment that is always present in viewing strategies. The approaches used by Delgado, Henry, Hinkle, Kaphar, Lovell, and Thomas suggest understandings of Blackness and the racial terms of our neo-liberal condition that counter legal and popular interpretations and, in turn, offer a paradigmatic shift within Black visual culture.
Bridget R. Cooks is Associate Professor, Department of African American Studies and the Department of Art History, University of California, Irvine. Exhibition and tour organized by Sarah Watson, Chief Curator, Hunter College Art Galleries, New York in collaboration with the University Art Galleries at UC Irvine, Palo Alto Art Center, and Art Galleries at Black Studies, University of Texas at Austin.
Host: Art Galleries at Black Studies- Idea Lab, 210 w. 24th St.

Dates: October 14, 2021 – February 18, 2022
Ariel René Jackson (b. 1991) is a Black film-based artist whose practice considers land and landscape as sites of internal representation. Themes of transformation are embedded in their interest and application of repurposed imagery and objects, video, sound, and performance. Exploring how culture is inherited, Jackson modifies familial and antique farming, household, and educational tools and furniture, hacking each object's purpose and meaning with nature-based material and weather based icons. They were born in Louisiana and raised there with their maternal family who descend from generations of farmers. Jackson currently lives and works in Austin, TX where they teach Expanded Media I at The University of Texas at Austin (Alum '19). Jackson is an alum of the Skowhegan School of Painting and Sculpture (2019), Royal College of Art Exchange Program (2018), and The Cooper Union (2013). Their work has been shown nationally at various galleries and institutions such as the Dallas Contemporary (2021); Jacob Lawrence Gallery, Seattle (2021); Contemporary Art Center, New Orleans (2018); Depaul Art Museum, Chicago (2018); Rhode Island School of Design Museum (2017); and Studio Museum in Harlem (2016).
Host: Blanton Museum, 200 E. Martin Luther King Jr. Blvd.

Dates: October 31, 2021 – January 16, 2022
In the 1960s Pop art in the Americas took a turn to the dark side. Artists working in both the United States and Latin America increasingly manipulated Pop's colorful and flashy representation of the familiar into a tool for social and political critique. In a 2016 exhibition, Chilean curator Soledad García called this "Pop crítico," or "critical Pop."
Juxtaposing works by American and Latin American artists in the Blanton's collection, this exhibition explores how artists adopted Pop artistic language to voice a political conscience, often veiling messages within their art. Their work was at once easily accessible to viewers and, in the Latin American context, effectively camouflaged from government censorship. Notably, all of these artists embraced a return to figurative art, often centering on the body as a vehicle for critical content.
The critical commentary varies by country and time period, and is at times subtle, while at other times bold and antagonistic. This exhibition embraces these contradictions between artists in the Americas as well as their visual similarities and shared attitude of rebellion. Together, these pairings of American, Latinx, and Latin American artworks illustrate how critical Pop transcended geography.