Current
Host: Davis Gallery & Framing, 837 W. 12th Street
Dates: January 23 – March 6, 2021 (by appointment only)
Davis Gallery proudly presents As The World Stood Still. This exhibition is a retrospective of the journey Kevin Greer started alone inside his studio during the lockdown that continued through this past month.
Host: ICOSA Collective, 916 Springdale Rd. Bldg 2, #102
Dates: January 19 – February 14, 2021
An Installation by Kate Csillagi and Brooke Gassiot
2020 locked us down and tethered us to our immediate surroundings. Without escape, the fault lines in our interconnectedness are unveiled. Meet Me at the Water is a collaborative installation that delves into the pauses that the pandemic has demanded of an insatiable materialistic culture. With nowhere to escape, our discomfort rises and this time calls for transformation. We search for answers and are, at last, receptive to change. Go to the water. Inside the window of ICOSA, Csillagi and Gassiot create scapes using video, mixed media, and shadow play. The exhibition is viewable through the glass only to ensure everyone can safely peer inside at any hour of the day. Please wear your mask and come check it out.
Host: Ivester Contemporary, 916 Springdale Rd. Bldg. 2, Ste 107
Dates: January 16 – February 27, 2021
Ivester Contemporary is excited to announce Songs With Creature, a solo exhibition featuring the elaborate abstract paintings of Ryan Thayer Davis. Davis approaches each canvas with a specific goal in mind; to make an impossible situation work. Each painting presented began with decisively difficult compositions for the artist to resolve. By way of tedious problem-solving techniques, these completed paintings often include vibrant intersecting layers of shapes and color that vaguely resemble fantastic machines, which seem to be set into perpetual motion by their own complexities.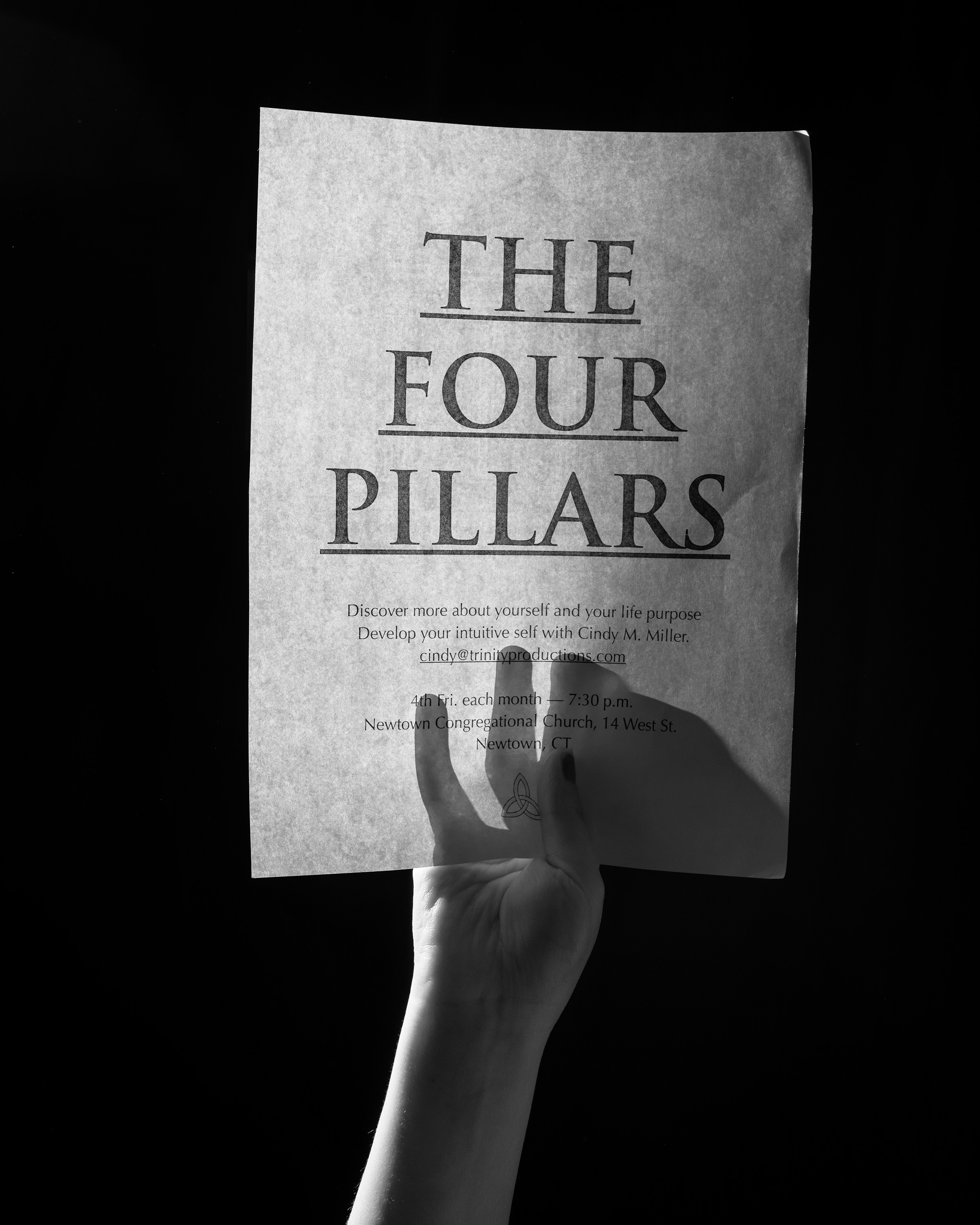 Host: Ivester Contemporary, 916 Springdale Rd. Bldg 2, Ste. 107
Dates: January 16 – February 27, 2021
Ivester Contemporary is proud to present, The Four Pillars, a solo exhibition featuring the black and white photography of Eli Durst. This exhibition examines the methods and ceremonies of various communities, including church groups, New Age practices, community theater, and self-defense classes. Durst sought out scenes and moments that addressed the question, "what is gained and what is lost in the adoption of shared values?" Specifically, these images focus on the performance of various ambiguous rituals, drawing attention to themes and issues at the heart of cultural reproduction, namely conformity, desire, shame, and repression among others. A reception for this exhibition will be held on February 12.
Host: Big Medium, 916 Springdale Rd, Bldg 2, #101 
Dates: January 16 – February 13, 2021 (by appointment only)
Rooted in our society's ever-growing desire to exercise control over our lives through various devices, 147 Devices for Integrated Principles is informed by the artists' experiences during Hurricane Harvey. Prior to the storm, the artists were confronted with a need to prepare a 'hurricane box' with devices such as batteries, canned food, toilet paper, and bottled water. As the hurricane passed, the water receded, and their lives started to return to normal, they realized that it was actually not returning to 'normal' – that the feeling of being overwhelmed by many external forces still existed. Not only was it the stress of a natural disaster, but also, divisive politics, economic pressures, and concerns with the aging of elderly parents, that brought Hillerbrand+Magsamen the idea to invent new devices for more intimate and personal problems. They turned to the concept of homo faber, or the notion that human beings can control their fate and their environment through tools. This turn of the century idea, a response to the Industrial Revolution, is as applicable today as it was then. Once again, our culture is faced with a new wave of technology that can either help us with our problems or exacerbate them.
To allow for social distancing, appointments will be scheduled every 30 minutes, with a maximum of 10 guests at a time. Starting December 10, visit their website to schedule an appointment with at least 24 hours advance notice. Masks are required at all times. Appointment hours: Thursday – Saturday, 12 – 6pm
Host: Big Medium, virtually at bigmedium.org
Dates: January 15 – February 19, 2021
In partnership, Big Medium and PrintAustin are pleased to announce the artists selected for The Contemporary Print: 5×5 international juried exhibition. Juried by Delita Martin of Black Box Press Studio, the upcoming virtual exhibition showcases the work of artists from the United States, Australia, and Slovenia, giving us a broad survey of printmaking happening across the globe. This year's selected artists include: Chloe Alexander (Atlanta, Georgia), John Klosterman IV (Tuscaloosa, Alabama), Oliver Pilic (Kamnik, Slovenia), Laura Post (Fort Worth, Texas), Cleo Wilkinson (Melbourne, Australia). The Contemporary Print: 5×5 will be presented on bigmedium.org and will run January 15 through February 19, 2021. In-depth artist features and online programming highlighting this year's exhibit will take place in conjunction with PrintAustin 2021.

Host: Link & Pin Gallery, 2235 E. 6th St. #102

Dates: January 15 – February 15, 2021 (by appointment only)
You are invited to join us for Sanando:Healing, a community altar piece and print show by Texas artist Kill Joy.  Born in the desert of west Texas, Kill Joy's family is originally from and partly based in the Philippines. Her work sits at the intersection of jungle and desert, grounded in honoring the earth and seeking environmental and social justice. Kill Joy's art is an interpretation of world mythology and a study of ancient symbols. She mixes this research with calls to global, mental, physical, emotional, and spiritual awareness. Her practice, Joyland, includes printmaking, mural marking, book making, and puppet making in Houston and Austin, Texas. Kill Joy's work has been exhibited nationally and internationally, both in galleries and on the street.

Host: grayDUCK Gallery, 2213 E. Cesar Chavez

Dates: January 8 – February 7, 2021 (by appointment only)
"My work and research focuses on the idea of barriers, both as an explicit subject and also more broadly as the psychological and physical manifestation of what it means to be separated. I am interested in the physical structures that determine where bodies are or are not permitted to go, as well as the more socially constructed ones that authorize these spaces into being. Barriers work as a structure that allows me to ask abstract questions about space but also as a material and visual exploration of line, structure, and repetition. My barriers are soft in touch but relentless in the repetition of lines that create the space, translucent in color, and rather light in terms of density of marks. The natural color of the support is left to show through, emphasizing the flat nature of the canvas but also suggesting an ease of passing through. I think of barriers as a place where two things meet, where my calligraphic line, absorbed from growing up surrounded by reproduced Chinese paintings, combine with a modernist minimalistic impulse. The resulting paintings situate themselves between two historically opposing traditions. " Renee Lai
Host: CAMIBAart, 6448 Hwy 290 East, Suite A102
Dates: January 7 – February 6, 2021 (by appointment only)
ReRoot, Orna Feinstein's fourth solo exhibition with CAMIBAart Gallery, a meticulously curated exhibit of brand new works from the Dendro Beton series alongside never before seen works from the Branch and Rooted series. Artworks in the Branched and Rooted series are unique explorative monoprints on paper while the works in the Dendro Beton series are concrete based sculptures with thread and paper embedded inside. All of the artworks are prime examples of Orna Feinstein's mastery of her processes, never-ending creativity, and ongoing exploration within the tree theme. Feinstein's abstract interpretation of the microscopic details of plants is revealed in all of these fascinating works.
Host: Mexic-Arte Museum, 419 Congress Avenue

Dates: December 19 – May 30, 2021
Mexico, the Border and Beyond: Selections from the Juan Antonio Sandoval Jr. Collection will be the first major showing of this collection in Austin. The Sandoval Exhibition is organized into four areas: 1) Passion of a Collector; 2) Life and Experiences in the U.S./Mexico Borderlands examines cultural history and social issues of the border represented by artists in the El Paso/Juárez U.S. Mexico border region. Artists include well known individuals such as Marta Arat, Manuel Carrillo, Jose Cisneros, Francisco Delgado, Gaspar Enriquez and Luis Jimenez; 3) Mexico: A Second Home showcases artworks by Manuel Acosta, Jose Cuevas, Rodolfo Morales, Francisco Toledo, Nahum Bernabé Zenil and Francisco Zuniga many that were acquired by Mr. Sandoval during  his summer trips to Oaxaca; 4) Beyond presents notable artists living and working outside the El Paso borderlands, such as Alejandro Romero, Esteban Sanchez, Kathy Vargas and others.
A large part of the exhibition is dedicated to the artworks focusing on the Life and Experiences in the U.S./Mexico Borderlands. This part is divided into five themes: Creating a Border; Land, Fauna, and Allegories; I am Immigrant You Are; Immigrant Dream and Nightmare; and The Culture Continues/La Cultura Sigue. The Sandoval Collection represents the unique history and culture of the borderlands or la frontera. Additional programs include an online exhibition on the borderlands, a series of online virtual humanities programs with scholars who will speak about the Borderland Experience; and educational tours will be produced to engage and educate the community.

Host: Blanton Museum of Art,
200 E. MLK Jr. Blvd.
Dates: October 17 – May 16, 2021
Diedrick Brackens constructs intricately woven textiles that speak to the complexities of Black and queer identity in the United States. Interlacing diverse traditions, including West African weaving, European tapestries, and quilting from the American south, Brackens creates cosmographic abstractions and figurative narratives that lyrically merge lived experience, commemoration, and allegory. He uses both commercial dyes and unconventional colorants such as wine, tea, and bleach, and foregrounds the loaded symbolism of materials like cotton, with its links to the transatlantic slave trade.
Upcoming

Host: Blanton Museum of Art, 200 E. Martin Luther King Jr. Blvd.
Dates: February 7 – May 9, 2021
The exhibition is drawn from acclaimed art historian and art critic Leo Steinberg's collection of approximately 3,500 prints, which was acquired by the Blanton in 2002. After Michelangelo, Past Picasso is the first exhibition to examine the impact of Steinberg's personal print collection on his scholarship and art criticism. Leo Steinberg was the rare art historian who turned his inquisitive eye and captivating prose to both Renaissance and modern art. His astonishingly wide-ranging scholarship addresses such canonical artists as Michelangelo Buonarroti, Leonardo da Vinci, Peter Paul Rubens, Pablo Picasso, and Jasper Johns.
Host: CAMIBA art gallery, 6448 Hwy 290 E Suite A-102
Dates: February 11 – March 6, 2021 (by appointment only)
The impeccably detailed creations of Daniel Rodríguez Collazo often straddle the line between photorealistic architectural documentation and surrealist futuristic visions. Working in a variety of mediums including charcoal, graphite, acrylic, ink, drywall and more, Daniel's artworks are consistently inspired by built urban landscapes, often of his hometown of Havana, Cuba. The Ciudades exhibition presents artworks by Daniel from three visually distinguishable series; Ciudades Infinitas (Infinite Cities), Espacios Inestables (Unstable Spaces), Resonancias (Resonances). In addition to being stylistically unique, each series also presents a distinct approach to appreciating and representing architecture, to rendering contrasts and shapes, and to use of materials. Exploring his favorite subject matter with his signature stylistic flare, Daniel often develops futuristic structures with superimposed shapes or lines, while other times he explores sculptural materials to reference fragments of building facades, and occasionally he incorporates color to represent abstract architectural realities. To truly appreciate how these artworks respond to each other, take a moment to visit CAMIBAart Gallery in person to see the Ciudades exhibit installed.

Window Dressing X
Host: ICOSA Collective, 916 Springdale Rd. Bldg 2, #102
Dates: February 15 – February 21, 2021 (Exhibition on view 24 hours/day)
ICOSA is excited to announce: Window Dressing X, featuring the work of new collective members Veronica Ceci, Michael Villarreal and Rodell Warner. Exhibition on view 24 hours/day through gallery front window.
Host: grayDUCK gallery, 2213 E. Cesar Chavez
Dates: February 19 – March 28, 2021 (by appointment only)
Bucky Miller is an artist, writer, and a recipient of the Aaron Siskind Foundation Individual Photographer's Fellowship. His work has been shown in solo exhibitions at spaces such as the Contemporary Arts Museum Houston as well as in numerous group exhibitions. His first selfpublished book, The Picture of the Afghan Hound, was selected as one of photo-eye's best photobooks of 2016. Miller's work has also been featured in publications like n+1, Der Greif, The Believer, and Glasstire. He has an MFA from the University of Texas at Austin and a BFA from Arizona State University. He also resided in London as part of an exchange with the Royal College of Art program in sculpture. In 2018 he attended the Recycled Artist in Residency program in Philadelphia, PA. Bucky is from Phoenix, AZ but currently lives in Houston, TX.
Nothing Is
Host: ICOSA Collective Gallery, 916 Springdale Rd, Bldg 2, #102
Dates: February 26 – March 27, 2021
The journey, the process, the times in between, the present moment in which we find ourselves: Nothing Is features photographs, video and installation works by Leon Alesi and Amy Bench. These works deconstruct and reassemble artifacts, transitional objects, talismans, and icons as expressions of momentary (or eternal) tension