Current

Host: Wally Workman Gallery, 1202 West 6th Street

Dates: October 2 – 31, 2021
On Saturday, October 2nd, Wally Workman Gallery will open A Piece of The Sky, a solo show with Priscilla Robinson. Inspired by the shifting light of the sky, Robinson's works are evolutions of color and rhythm. Using kozo and abaca, hundreds of individual handmade paper units make up each piece, coming together in representation of nature's vastness.
Robinson exhibits internationally, with work shown in Japan, Australia, Spain, Denmark and China in 2021 alone. She maintains a studio in Austin, Texas and Taos, New Mexico.
Established in 1980 and located in a 100 year old historic house in Austin's art district, the Wally Workman Gallery specializes in emerging and collected talent.
Host: Davis Gallery, 837 West 12th Street
Dates: October 2 – 30, 2021
Opening Reception: Saturday, October 2, 2021 | 4 -7 pm
JOSEPH HAMMER: Looking Forward, Looking Back presents new and current work by Hammer, as well as some previous works representing the artist's various creative periods and influences on his art. Known primarily as a mixed media collage artist working with salvaged book covers, Hammer also produces assemblages, some of which will be on display. He has been represented by the gallery since 2005.
Gallery director Fallon Bartos says, "We think people will find it interesting to see some of Joseph's early work, learning more about what inspires and motivates him. His new work incorporates many of these influences, which have percolated over the years."
Hammer's studies in line, shape and texture are represented, and also his interest in optical illusions and in the Vienna School of the early twentieth century.
Host: Yard Dog Art, 916 Springdale Rd, Bldg 3 – 104

Dates: October 1 – November 7, 2021
Opening Reception: Saturday, October 2, 2021 12 pm- 5 pm
Kurt Herrmann ( b. 1972, Lock Haven, USA ) is a painter from the mountains of Pennsylvania who does both figurative and abstract work, but above all, he is a colorist at heart. Two of his recent shows were featured in Time Out Chicago and the Philadelphia Inquirer, with recent shows in Tasmania ( Penny Contemporary ), Canberra (Aarwun Gallery), Australia; Auckland ( 12 Gallery ), New Zealand; and Philadelphia ( James Oliver Gallery), Charlotte ( Sozo Gallery ), and New Orleans ( Octavia Gallery ).  Although his exhibition schedule is increasingly international, Herrmann's rural Pennsylvania roots continue to influence his work. "I'm very aware of the fact that even if a painting was initially inspired by something exotic, or an extremely personal event on the other side of the planet, all my work is filtered through my studio in the hills of Appalachia," he explains. "The colors, silence, space, seasons, landscape, even the rednecks impact everything I make. It's inescapable."
"Many of my shapes, forms, and colors have been extracted from the mountains of Pennsylvania where I live and work, but I also sample bits and pieces of memories and places I've never been.  There are glimpses of big oak trees, tropical waves, winter skies, deer legs, and the pink from a summer watermelon – all under the soundtrack and influence of jazz.  These are some of the sparks that start a painting but they are not the whole story.  The initial inspiration is simply a launchpad to shoot a rocket off into the unknown.  Color does not need to represent anything other than itself.  It is universal yet nothing is more personal.  And that's how I present these paintings.  I'm distilling something that struck me, but the interpretations and feelings others come away with are infinite."
Host: Link & Pink Gallery,

2235 E. 6

th

 St. #102



Dates: September 30 – November 7, 2021
Closing Reception: Friday, November 5, 2021 7-9 pm
Larry Goode is a mixed-media artist known for thoughtful mixed media pieces that explore humor, whimsy, and melancholy. Goode's work has been acquired by the Art Institute of Chicago's special collections library and Seton Hospital's permanent collection, as well as many private collections, and been included in the HBO series, The Leftovers, displayed at the Austin–Bergstrom International Airport, and the Austin Public Library. Spending considerable time as a youth on a ranch east of Dallas and in the Texas hill country, Goode developed a love for the sky, vast open ranges, the unpredictability of weather, and an interest in how these affect our emotions and perceptions. A practitioner of Buddhism, Goode's current work explores Zen beliefs and concepts. His art examines the mindfulness, melancholy, and joy that can result from the combination of these influences. Goode received his BFA from The University of Texas at Austin, and his MFA from Texas State University. He currently lives and works in Austin, Texas.
Host: ICOSA Collective Gallery, 916 Springdale Rd, Bldg 2, #102
Dates: September 24- October 23, 2021
Opening Reception: Friday, September 24, 2021 | 7-10 pm
Terra Firmament presents an array of emotionally charged paintings by artists Matt Rebholz and Jana Swec. Both artists channel their personal histories into landscapes steeped in narrative and individual mythology. Detached from human chronologies, a sense of geologic or sidereal time pervades these environments as they ruminate on intersections of earth, water, and the firmament.
Host: Austin Public Library, 710 W. César Chávez St.
Dates: September 20- October 24, 2021
¡Se Ha Dicho! explores the power of words in art and everyday lives of Hispanic and Latinx communities, whether emulating the rallying speech of a community organizer, the soothing rhythm of a lullaby shared from mother to daughter, or an astute connection scribbled in the margins of a book. The work presented here is a celebration of the power of a community with deep and diverse stories to tell, as we live with the daily-learned lesson of just how much words matter.
Artists: Cande Aguilar, Julia Barbosa Landois, Paco Castro, Christian Cruz, Ulyses Cueto, Veronica Gaona, Evelyn Gonzalez, Suzy Gonzalez, Siri Gurudev, Rafael Fernando Gutierrez, Barbara Miñarro, Monica Teresa Ortiz, Alexandra Robinson, Miguel Rodriguez, Alán Serna, Jesus Valles
Host: Ivester Contemporary, 916 Springdale Rd, Bldg 2, #107
Dates: September 18- October 23, 2021
Opening Reception: Saturday, September 18, 2021 | 7-9 pm
Ivester Contemporary is pleased to present, The Conceptual Still Life, featuring new works by Denise Prince which include photography and painting that considers the way food and flowers have been used as signifiers throughout history. This playful appreciation brings together the sensibilities of vintage cookbooks with the visual language of advertising. It nods towards indulgence, symbolism and the Platonic ideal. A vivid, unabashedly feminine take on polished sureness and pleasure to speak about how life is lived by people who make their own pretends.
Denise Prince is an Austin-based, American artist concentrating in photography and film. She is known for using the visual language of advertising to play with and reveal the ways we take pretends as real and to explore being in relation to Desire. Influenced by critical theory at CalArts in Los Angeles, she has worked closely with clinical philosopher and Lacanian psychoanalyst Charles Merward since 2007.
Her work has been clarified, confronted, and interpreted by psychoanalyst members of the World Association of Psychoanalysis, is in the collection of the Museum of Fine Arts Houston, has been exhibited internationally and has been featured on PBS Television and in Vogue Magazine.
Host: Ivester Contemporary, 916 Springdale Rd, Bldg 2, #107
Dates: September 18- October 23, 2021
Opening Reception: Saturday, October 9, 2021 | 7-9 pm
"Interwoven throughout Eternity is work made during the pandemic about the interconnectivity of human and non-human and an appreciation and celebration of diversity and our shared humanity. Experiencing a global pandemic made us realize that our life, time, and resources are limited. Various layers of images represent living in the present moment and to the fullest in all of our life. Our connection with people of color is key to our portrait work. We attempt to recreate art history featuring Bipoc representation, inspired by the rhizome as a metaphor for community. As artists of color, we heal ourselves by working with other talents of color to find common threads that weave throughout our universe." – Essentials Creative
Essentials Creative is a multi-media collective producing holistic applied arts experiences. These multi-faceted events incorporate disciplines such as photography, fashion, graphic design, video, projection, animation, music, and installation. Although a single image may include many Essentials members, there is always a unified vision of experimentation, fluidity, and diversity.
Essentials creates a platform for underrepresented artists to express themselves and find support within their field. in the search for emerging talent, innovative voices, and unseen narratives, collaboration with other creatives is celebrated. Essentials is composed of and embraces artists of color, women, and members of the LGBTQ community.
Host: Mexic-Arte Museum, 419 Congress Avenue

Dates: September 17, 2021 – February 27, 2022
Opening Reception Friday, September 17, 2021 6 PM-9 PM 
Throughout 2021, Mexico is observing and commemorating major events in history: the falling of the Aztec capital Tenochtitlán, the invasion by Spain, and the Independence of Mexico. Mexic-Arte Museum will present an exhibition and programs in conjunction with Mexico's  2021 events, and reaffirm our common cultural history.
The exhibition MX 21-Resistance, Reaffirmation & Resilience is divided into three sections: Resistance, Reaffirmation, and Resilience. Resistance refers to the Original Peoples resisting the Spanish invasion and occupation of Mexico, which was really not "conquered." Reaffirmation speaks to affirming the unique history and cultural diversity of our shared heritage. Resilience represents the on-going evolution of Mexicans, Mexican Americans, and other Latinx peoples, despite and because of struggles to achieve liberty, social justice, and plurality. Invited artists respond to these themes to help the public better understand and appreciate how Mexico's history has impacted and inspired our shared U.S.- Mexico cultural history in the Americas, as Mexicans, Mexican Americans, and Latinx peoples.
Participating artists include Santa Barraza, Cande Aguilar, Angel Cabrales, Tomas Filsinger, Eduardo Garcia, Tita Griesbach, Mari Hernandez, Michael Menchaca, Delilah Montoya, Juan Navarrete, Yelaine Rodriguez, Sergio Sanchez Santamaria, Andy Villarreal, "Kill Joy", Joy Mallari, and artwork from the Mexic-Arte Museum Permanent Collection.
The goal is to participate in Mexico's remembrance, and at the same time, reflect on history and current reality here in the U.S., reclaiming and reaffirming shared heritage and experiences through the work of contemporary artists. Public programming includes lectures sponsored by Humanities Tx.
Host: Mexic-Arte Museum, 419 Congress Avenue

Dates: September 17 – November 22, 2021
Opening Reception Friday, September 17, 2021 6 PM-9 PM 
The Mexic-Arte Museum is beyond proud to announce the recent acquisition of the The Mary J. Andrade Passion for Life, Day of the Dead in Mexico Photography Collection. Mary J. Andrade is a prominent figure in the study of Day of the Dead and has documented the celebration in different states of the Mexican Republic from 1987 to 2016. Mary J. Andrade, Cultural Advisor for the Disney Pixar Oscar Winning Movie "Coco," began researching Day of the Dead in 1987 in Janitzio, Michoacan. Since then, Mary has covered a different state of the Mexican Republic each year, gathering information and taking photographs of the celebration of this pre-Hispanic tradition known as Day of the Dead, a tradition that has evolved through the centuries and has become an integral part of the Mexican spirit and culture. The exhibit features photographs of various areas of Mexico and  how this age-old tradition is celebrated in distinct communities.
Host: Mexic-Arte Museum, 419 Congress Avenue

Dates: September 17 – November 22, 2021
Opening Reception Friday, September 17, 2021 6 PM-9 PM 
This exhibition marks the 38th Annual Dia de los Muertos exhibition and celebration at the Mexic-Arte Museum, since 1984.  The exhibition, as always, will pay tribute to the tradition that celebrates the return of the dead to their families and friends on November 1st and November 2nd. Ofrendas, recuerdos, memorias, photos and offerings will be assembled and shared in a room by community members  to remember loved ones who passed away.  Mexic-Arte Museum is inviting the public to contribute a photo of a loved one or someone you admire who has passed away.
The gathering of recuerdos includes an installation by (Re)claiming Memories organization focusing on Indigenous community and significance of plantings the San Jose Cemetery  by Marika Alvarado, a Lipan Mescalero Apache medicine woman and  photographer Margaret Gallagher.
Host: Art Galleries at Black Studies- Christian Green Gallery, 201 E. 21st St.

Dates: September 16 – December 12, 2021
The Art Galleries at Black Studies (AGBS) is pleased to host the traveling group exhibition The Black Index at its Christian-Green Gallery. Dedicated to the legacy of artist and scholar David C. Driskell, The Black Index features the work of Dennis Delgado, Alicia Henry, Kenyatta A.C. Hinkle, Titus Kaphar, Whitfield Lovell, and Lava Thomas. The artists included in The Black Index build upon the tradition of Black self-representation as an antidote to colonialist images. Using drawing, performance, printmaking, sculpture, and digital technology to transform the recorded image, the artists featured in The Black Index question our reliance on photography as a privileged source for documentary objectivity and understanding. Their works offer an alternative practice—a Black index—that still serves as a finding aid for information about Black subjects, but also challenges viewers' desire for classification. The works in The Black Index make viewers aware of their own expectations of Black figuration by interrupting traditional epistemologies of portraiture through unexpected and unconventional depictions. These works image the Black body through a conceptual lens that acknowledges the legacy of Black containment that is always present in viewing strategies. The approaches used by Delgado, Henry, Hinkle, Kaphar, Lovell, and Thomas suggest understandings of Blackness and the racial terms of our neo-liberal condition that counter legal and popular interpretations and, in turn, offer a paradigmatic shift within Black visual culture. Curated by Bridget R. Cooks, Ph.D., Associate Professor, Department of African American Studies and the Department of Art History, University of California, Irvine. Site-curated by Cherise Smith, Ph.D., Chair of African and African Diaspora Studies at the University of Texas at Austin and the Founding Executive Director of the Art Galleries at Black Studies; and Kendyll Gross, Curator of Public Programs at the Art Galleries at Black Studies.
Exhibition and tour organized by Sarah Watson, Chief Curator, Hunter College Art Galleries, New York in collaboration with the University Art Galleries at UC Irvine, Palo Alto Art Center, and Art Galleries at Black Studies, University of Texas at Austin.
Host: The Contemporary Austin-Jones Center, 700 Congress Ave
Dates: September 11, 2021 – January 16th, 2022
Crit Group Reunion brings together artists who have participated in the museum's Crit Group program, showcasing the spectrum of contemporary art in Austin. With seven to eight artists participating each year, since its founding Crit Group has generated a network of approximately sixty artists working in various artistic mediums—from painting and sculpture, textiles and ceramics, to performance, video, and sound installation. Accompanied by a range of programs and artist-led workshops, the exhibition will be presented in two chapters, with a gallery changeover midway through the exhibition, to celebrate Austin's dynamic artistic community.
Running annually since 2014, The Contemporary's Crit Group program has strived to support local artists in making new work, building community, and growing a professional practice. This highly selective program has brought together artists with a range of personal and educational backgrounds, as well as native Austinites and those who had recently relocated to the city. The Crit Group program aims to support these artists in experimenting and expanding their creative practices in new directions. In the spirit of extending this ethos, Crit Group Reunion will gather former program participants in a single exhibition for the first time, presenting a range of new and recent works and fostering a timely sense of togetherness.
Host: The Contemporary Austin-Jones Center, 700 Congress Ave
Dates: September 11, 2021 – March 20th, 2022
Organized by The Contemporary Austin, Daniel Johnston: I Live My Broken Dreams is the first-ever museum survey of works by the visionary musician and visual artist Daniel Johnston (1961 – 2019). Best known for his music, Johnston was also an accomplished artist who exhibited his comic-inspired drawings during his lifetime. Yet, apart from his iconic "Hi, How Are You?" mural, painted in Austin in 1993, his abundant visual art remains little-known to most audiences. This exhibition will provide a rich presentation of Johnston's work across disciplines, enabling visitors to explore the intricate connections between his prolific corpus of music and visual art. In addition to a selection of Johnston's drawings and paintings, the presentation will include the artist's home-recorded music and movies, as well as documentary footage of him rehearsing and performing. Rounding out the presentation with an array of ephemera and material culture—from concert posters, hand-made tapes, and Johnston's notebooks to vinyl records, comics, and toys from his vast collections—the exhibition will delve into the artist's process and his work in context. In conjunction with the exhibition, The Contemporary will also present collaborative public programs and performances, offering ample opportunities to explore Johnston's legacy in depth.
Host: Blanton Museum, 200 E. Martin Luther King Jr. Blvd.

Dates: September 4, 2021 – February 20, 2022
A key figure in the development of color-field painting, Helen Frankenthaler (1928–2011) was a tireless experimenter with color, form, and technique over the course of her life. When Frankenthaler began creating prints in 1961, she had to adapt to a medium that would involve collaboration and a new language of printmaking techniques. Asking questions that began, 'Suppose I do…' or 'Suppose I try…' she approached lithographs, screenprints, etchings, and woodcuts with curiosity and vision. She, along with other artists, contributed to a printmaking renaissance in the mid-20th-century. This exhibition celebrates the generous gift from the Helen Frankenthaler Foundation of ten prints and six proofs that span five decades of the artist's career. Her work is joined by that of other artists in the Blanton's collection using the medium of print to capture and translate their own abstract visions.
Host: ICOSA Collective group exhibition and Spellerberg Projects, Masur Gallery, 119 W San Antonio St., Lockhart, TX
Dates: September 3 –  December 27, 2021
Kicking off the fall season partnership in Lockhart, TX, ICOSA Collective and Spellerberg Projects are pleased to announce En Masse, a group exhibition featuring the ICOSA Collective at Spellerberg Projects Masur Gallery.
ICOSA was formed in 2015 by a group of fourteen like-minded artists who came together to transform what was an old automotive shop on Shady Lane into an exhibition space for the East Austin Studio Tour. Afterward expanding the group to 20 members, ICOSA continued to produce monthly exhibitions & collaborative ventures. After being displaced from its original location ICOSA moved to the Canopy complex where it continues to produce monthly exhibitions and stand as a venue for the exchange of ideas and the fostering of the arts community in the ATX.  Since its inception the collective has worked with over 300 artists & curators outside of its member artist group. ICOSA has hosted exchanges and collaborations with other artist collectives and arts organizations, and has worked to help create a place for contemporary art in the ATX.
En Masse will include the work of ICOSA's current members and interns.
Host: Flatbed Center for Contemporary Printmaking, 3701 Drossett Drive, Ste. 190
Dates: August 28 – October 9, 2021
Closing Reception: Saturday, October 9th, 4-6pm (including Artist Talk at 5pm)
Announcing an exhibition of new work by Byron Brauchli titled Rios de Vida (Rivers of Life). This exhibition and Brauchli's soon-to-be-released book with the same title are the fruits of a photographic project that has occupied the view and lens of Brauchli over the last years. Brauchli deployed multiple techniques in his investigation including photogravure, cyanotype, platinotype, and more. His images are drawn from the Rio Grande River from its source in Colorado to its finish at the Gulf of Mexico. His lens captures images warning us of the contradictory processes of modernity and its impact on natural and social environments.
Brauchli (Boulder, Co. 1960) specializes in Mexican-American visual studies and Nineteenth-Century photographic processes. He holds an M.F.A. from the University of Texas at Austin. He has taught at such institutions as the University of Texas at Austin, Centro de la Imagen in Mexico City, among others. Currently, he is a researcher at the Institute of Arts at the University of Veracruz. His current project, Rios de Vida, is on exhibit at multiple venues around Mexico, the USA, and Spain.
Host: Artworks Gallery, 1214 W. 6th Street, Suite 105
Dates: August 14th – October 9, 2021
'Touch the Seen' is a series of monumental figurative paintings by Austin artist Les Satinover. The subjects, mostly male, occupy vast landscapes in the large paintings that celebrate the beauty of nature. Visit Arworks today!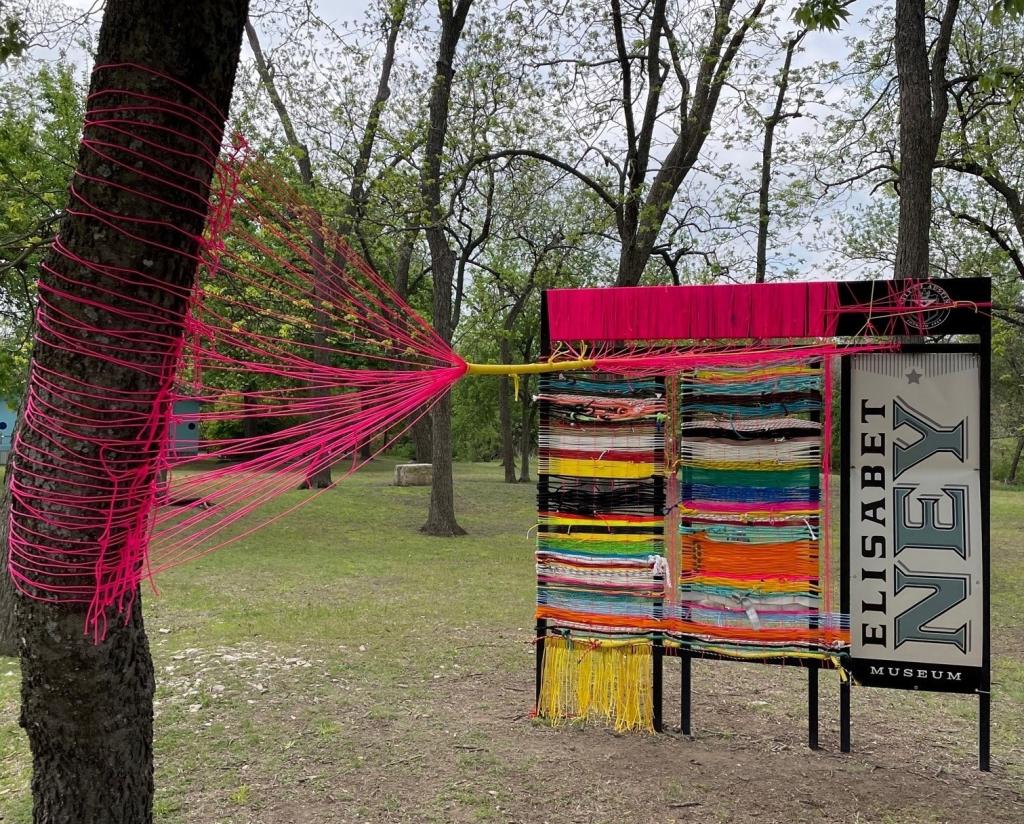 Host: Elisabet Ney Museum, 304 East 44th Street

Dates: June 9– October 24, 2021
The Elisabet Ney Museum is proud to present "Reweave: 2021," an exhibition of works indoors and outdoors by Austin artist Jade Walker. The show consisting of two parts: Mire + Mend, which is outside the Elisabet Ney Museum, on its grounds; and Birdsong, located inside the Museum. There is also a virtual component, found here. Intended to reflect community bonds through intersections in fabric and weaving, Reweaving refers to the art of repairing damage to a garment in a virtually invisible way by hand weaving new material and replicating the garments original structure as closely as possible. Both Mire + Mend and Birdsong utilize similar weaving structures but one asks others to bring their own materials and take part in a communal fashion to mend while the other advocates observation and action through other means. Together these works create the overall project, Reweave: 2021.
Host: Blanton Museum, 200 E. Martin Luther King Jr. Blvd.
Dates: May 29 – December 5, 2021
The Blanton Museum of Art at The University of Texas at Austin announces Sedrick Huckaby, the eighth Contemporary Project in the series. Painted from life with richly layered brushwork, the large-scale oil portraits by Fort Worth, Texas artist Sedrick Huckaby embrace families and people in his community. Several of these works are on public view for the first time, including one of the only portraits done from life of George W. Bush, who studied painting with Huckaby, and The Huckabys, a new six-part portrait of Huckaby families in North Texas that reflects on what binds us to people with the same last name. Another monumental work in the exhibition, Summer: Love Supreme (above), celebrates his family's quilts, an art form that appears throughout the exhibition. Huckaby, whose work draws inspiration both from African American heritage and his hometown, noted, "One of the things this exhibition is about is a patchwork of our communities—the connections between people."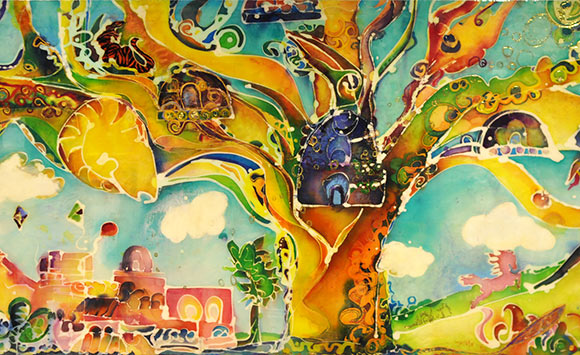 Host: Austin Public Library, Virtual Exhibition
Dates: May 1 – December 31st, 2021
Rakhee Jain Desai is an interdisciplinary artist whose work creates dialogue about immigrant identity and belonging.  Her current body of work utilises the centuries-old, wax-resist textile technique, Batik. The combination of Batik, an Eastern craft, with traditionally Western mediums (encaustic, oils and acrylics) is a signature process.
Rakhee has exhibited across the USA, Singapore and Portugal. She was selected as a featured artist for the Imago Mundi Benetton Foundation – representing Singapore's contemporary art in the 21st Century & Beyond. She was the first cohort recipient of the Tempo2D program by the City of Austin Art in Public Places. The Batik mural named 'A Place To Call Home' is now on permanent view at the Austin Bergstrom International Airport.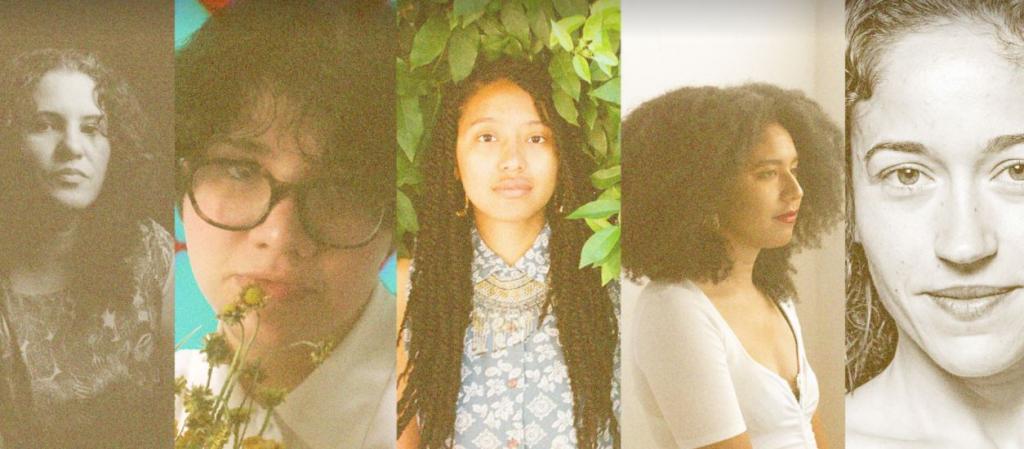 Host: Emma S Barrientos Mexican American Cultural Center
Dates: Ongoing, Virtual Exhibition Here
MULTI is a virtual exhibit curated by The Projecto's Coka Treviño which will be featured in The ESB MACC's annual La Mujer celebration. MULTI tries to express a few of the many dream-states that our life as Mexican and Mexican American women have internalized in and outside of contemporary colonialism, and how we're collectively trying to unlearn and find our own, authentic voices.
The artists of MULTI are: Poet and writer Ariana Brown; Photographer and Designer Patricia Carrington; Performer and Video artist Fina Ferrara; Contemporary artist and visual activist Irene Antonia Diane Reece; and experimental video and sound artist Natalia Rocafuerte provide us with different views of Mexicanidad and the Latinx experience.
Multidisciplinary, Multifaceted, Multicultural; Resilient Artists that have grown, reached, and accomplished trusting their own strengths, and resources. Womxn that have dared to dream a different life.
Host: The Contemporary Austin-Laguna Gloria, 3809 West 35th Street

Dates: Ongoing
The Contemporary Austin's Betty and Edward Marcus Sculpture Park at Laguna Gloria is named in honor of a founding grant by the Edward and Betty Marcus Foundation. This contemporary art destination presents exhibitions and permanent outdoor art installations on a site of great natural beauty on Lake Austin.
A complement to the Jones Center, The Contemporary Austin's downtown location, the Betty and Edward Marcus Sculpture Park at Laguna Gloria is committed to a vibrant, engaging program of exhibitions alongside thoughtful land stewardship. The Edward and Betty Marcus Foundation's gift allows for the commissioning, exhibition, and acquisition of new works of art by leading international contemporary artists as well as the preservation of the works and Laguna Gloria grounds. The gift celebrates Betty Marcus's great passion and vision for the arts, especially in outdoor settings.
With diverse ecology—including woodlands, meadows, gardens, and waterfront and a rich array of flora and fauna—Austin's historic Laguna Gloria is a precious reserve of natural beauty, and a welcoming art-in-nature site, in the heart of the city.
Upcoming

Host: Camiba Gallery, 6448 Hwy 290 E Suite A-102

Dates: October 7, 2021 – November 6, 2021
Opening Reception: Thursday, October 7, 2021
Presenting Color, Form and Sin, Edward Lane McCartney's third solo show at Camiba Gallery, opening October 7 th with an in-person reception.  An artist, jeweler, and metalsmith with an obsession for material culture, Edward has created finely crafted artworks for this exhibit that are a manifestation and reflection of the turmoil of the last few years in both his studio practice and in society in general.  In this varied collection, Edward returns to his affinity for color, his obsession with geometric and sculptural fundamentals, and his knack for expressing his social commentaries and personal design aesthetics.  The exhibit's title is reflective of the main thematic concerns in the show, such as the perception of Color in his Chromoreel series of rolled edge-set paper wall sculptures; the manipulation of Form with the many sculptural works such as the Bronze, Copper, Brass and Oak " Up Mobile"; and the definition of Sin in his socially provocative works such as the set of metal sculptural cubes "The Seven Deadly Sins".
Edward Lane McCartney, born in 1964 in Pittsburgh, PA has resided in London, Toronto and San Francisco, and is currently based in Houston, TX where he has been creating art since 1999.  His work is held internationally in many private, public, and museum collections.  McCartney's art and jewelry is often infused with social content.  Sometimes his work is material driven, sometimes conceptual, yet always wrought from his own aesthetic.  The scale of McCartney's works ranges from small wearable body art to larger wall and sculptural works.  While originally working primarily with metals, now he works with a large range of mediums with a focus on color, optical kinetics, and material in both three and two dimensional forms.  McCartney has served as the Board President of the Houston Center for Contemporary Craft from where he is a former participant in their Artist in Residence Program, he continues to study at the Glassell School of Art, MFAH, and he is active in his local arts community.
Host: Art Galleries at Black Studies- Idea Lab, 210 w. 24th St.

Dates: October 14, 2021 – February 18, 2022
Ariel René Jackson (b. 1991) is a Black film-based artist whose practice considers land and landscape as sites of internal representation. Themes of transformation are embedded in their interest and application of repurposed imagery and objects, video, sound, and performance. Exploring how culture is inherited, Jackson modifies familial and antique farming, household, and educational tools and furniture, hacking each object's purpose and meaning with nature-based material and weather based icons. They were born in Louisiana and raised there with their maternal family who descend from generations of farmers. Jackson currently lives and works in Austin, TX where they teach Expanded Media I at The University of Texas at Austin (Alum '19). Jackson is an alum of the Skowhegan School of Painting and Sculpture (2019), Royal College of Art Exchange Program (2018), and The Cooper Union (2013). Their work has been shown nationally at various galleries and institutions such as the Dallas Contemporary (2021); Jacob Lawrence Gallery, Seattle (2021); Contemporary Art Center, New Orleans (2018); Depaul Art Museum, Chicago (2018); Rhode Island School of Design Museum (2017); and Studio Museum in Harlem (2016).
Host: grayDUCK Gallery, 2213 E. Cesar Chavez
Dates: October 16, 2021 – November 21, 2021
Reception: October 16, 2021, 7-10 pm
small acts is an exhibition of various mixed media works–including collage, drawing, sculpture, video, and photography–by four Austin-based artists: Betelhem Makonnen, Christina Coleman, Deborah Roberts, and Tammie Rubin. To change one's future, to change perception, or even how we treat others is all a result of a small act. The artworks on view range from investigations of black existence through body, object, beauty, childhood and familial narratives, fugitive perceptual experiences, and time. While each artist's aesthetic approach is different, they are united by their faith in the power of small acts to guide and reimagine our everyday existence.
For Coleman and Rubin, the small act is in the recognition of the everyday. Both artists look at how mass-produced everyday objects transcend banality. Coleman's media inventory includes dominoes, Oreo cookies, and synthetic hair. She presents works that situate these seemingly insignificant objects amidst spaces that hold great value. For instance, Coleman draws parallels between entities in cosmic space and Oreo cookies. Her interest lies in the interplay between the small and the vast, and how the former has the potential to give meaning to the latter. Within her work, dominoes become ceramic vessels and Oreo cookies are transformed into lunar phases. Rubin's Always & Forever (ever, ever) series comprises conical groupings that reference objects of power, fraternity, anonymity, pageantry, absurdity, and belief. The sculptures are multi-part porcelain casts of recognizable consumer forms that reference hoods, headdresses, hats, and helmets. From the Ku Klux Klan and the Catholic Brothers of the Nazarene hoods, dunce caps, wizard hats, to west African Headdresses, medieval helmets, and the cone-wearing figures in Hieronymus Bosch paintings, these intimate ensembles are suspended within familiarity, uncertainty, and foreboding.
Makonnen and Roberts seek to disrupt perceptions. They believe their small acts and gestures can provoke radical new possibilities for perception and being. Makonnen's artistic line of inquiry lingers in spaces of virtual conjunction accessed through paradoxes and feedback loops. Working with video, photography, and installations, she focuses on questions of perception, presence, and place while navigating within the trans-temporal and trans-locative topology of her diasporic consciousness. Her work seeks material equivalences that reflect a conjugated present, recognizing the future and the past as forms of the present, present in the present. The hand is always present. All of the above informs Makonnen to create a perceptual language that challenges normative structures of visuality and binary thinking in our cultural contexts. Roberts combines found and manipulated images with hand-drawn and painted details to create hybrid figures. These figures often take the form of young girls and increasingly Black boys, whose well-being and futures are equally threatened because of the double standard of boyhood and criminality that is projected on them at such a young age.
The works in this exhibition speaks to the notion of small acts in our lives that change how we are perceived and how those perceptions guide us in our everyday life.
Host: Woman & Their Work, 1311 E Cesar Chavez Street

Dates: October 23, 2021 – December 16, 2021
Pattern Language challenges the hierarchy of social space by examining the relationships between institutions, urban planning, and one's own home. Through installations that invert the principles of architectural design, artist Rehab El Sadek questions existing power dynamics and contemplates the role of the individual within the built environment.
About the Artist: An Egyptian-born artist of Sudanese ancestry, Rehab El Sadek, is a conceptual artist whose work has been widely exhibited internationally in the UK, Ireland, Netherlands, Italy, Germany, Austria, Spain, Turkey, UAE, Lebanon, Pakistan, Kenya, Algeria, Mali, Egypt, and Canada. In 2009, El Sadek was one of 88 female artists included in REBELLE: Art and Feminism 1969-2009–an extensive forty-year survey of feminist artwork organized by the Museum voor Moderne Kunst in Arnhem that included artists such as Louise Bourgeois and Yayoi Kusama. 
El Sadek has been the recipient of numerous grants and awards. Recent awards include: The Gottlieb Foundation Individual Grant, NY; Sustainable Arts Foundation Award; Texas Vignette Artist Grant; a MacDowell artist residency supported by the Pollock-Krasner Foundation and the Carnegie Corporation Fellowship ; and Red Bull Arts Microgrant. She also held a one-year appointment as the City of Austin's first Artist-in-Residence 2017, embedded in the City's Watershed Protection Department.
Host: Blanton Museum, 200 E. Martin Luther King Jr. Blvd.

Dates: October 31, 2021 – January 16, 2022
In the 1960s Pop art in the Americas took a turn to the dark side. Artists working in both the United States and Latin America increasingly manipulated Pop's colorful and flashy representation of the familiar into a tool for social and political critique. In a 2016 exhibition, Chilean curator Soledad García called this "Pop crítico," or "critical Pop."
Juxtaposing works by American and Latin American artists in the Blanton's collection, this exhibition explores how artists adopted Pop artistic language to voice a political conscience, often veiling messages within their art. Their work was at once easily accessible to viewers and, in the Latin American context, effectively camouflaged from government censorship. Notably, all of these artists embraced a return to figurative art, often centering on the body as a vehicle for critical content.
The critical commentary varies by country and time period, and is at times subtle, while at other times bold and antagonistic. This exhibition embraces these contradictions between artists in the Americas as well as their visual similarities and shared attitude of rebellion. Together, these pairings of American, Latinx, and Latin American artworks illustrate how critical Pop transcended geography.
Host: Wally Workman Gallery, 1202 West 6th Street
Dates: November 6 – 28, 2021
Opening Reception: Saturday, November 6, 2021
AMERICA MARTIN is a Colombian-American fine artist based in Los Angeles and a rising star in the contemporary art world whose works have been shown in museum and solo and group exhibitions nationwide. America describes herself as a painting anthropologist, working primarily with paint on canvas and paper to explore the human experience – and the human form.
America Martin finds inspiration everywhere, but it is not by happenstance or easily won. Like a true virtuoso, she searches relentlessly – sketchbook in hand and camera around neck – often among "voiceless" people whom many consider insignificant; Martin disagrees. Instead, she finds in them truth, vitality and beauty so devastating that she is compelled to transpose it into effigy profound enough to break your heart. That is the essence of Martin's vision, and through her eyes life is not only sublime, but it finally makes gorgeous, perfect sense.
Taking inspiration from Mid-Century Modernist masters, America's distinctive style is underscored by the use of boldly brushed lines and punctuated bursts of color to imply tone and mood. She treats her subjects with an obvious reverence, and in a manner that captures their individuality and their dignity.