Current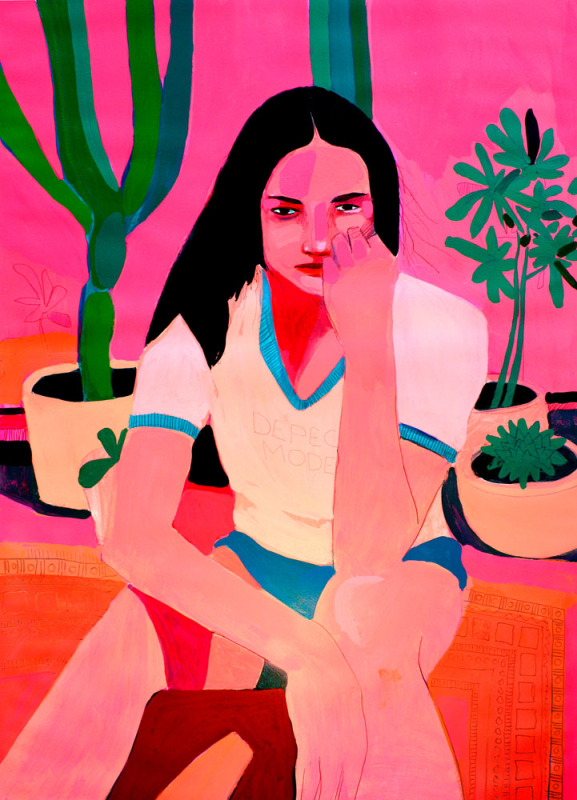 Host: Wally Workman Gallery, 1202 West 6th Street

Dates: May 1 – May 29, 2021
Puckett's paintings are known for their bold colors and strong leisurely figures, executed with confident interaction between paint application, shape, color and texture. In this new body of work, pattern becomes a focus just as important and can often be found in the foliage, the interior and the subjects' dress. This use of pattern competes for attention and adds an active element to the otherwise passive pose of the sitter- emanating a sense of energy and almost an urgency to postures of leisure.
Born in 1979, Puckett grew up in a log cabin in central Mississippi. He received his Bachelor of Fine Arts Degree from The University of Southern Mississippi in 2002. Puckett currently lives and works in Austin, Texas.
Host: Davis Gallery, 837 West 12th Street
Dates: May 1 – June 12, 2021
The work in this exhibition explores the idea that we're moving towards an unknown new world at a very fast pace. Human culture and life is constantly changing, but at this time in history, change has accelerated. We're experiencing a variety of challenges that may make the path ahead formidable.
The title of the show, "Nuevo Mundo", means "new world" in Spanish. "Nuevo Mundo" is how the Spanish Crown and the conquistadors referred to the American continent when it was discovered and explored. It was an exciting new world. A world populated with unknown peoples, animals and plants as well as untold treasures and dangers.
Host: Link & Pin Gallery, 2235 E 6th Street, Ste. 102
Dates: April 22 – May 29, 2021
Line is the most utilized basic element of art. In her sculptural exhibition, Linear Variations, Laura Sturtz employs line in its many aspects. Line is most frequently associated with drawing, but in both her wood and metal sculptures, line is used to describe and define form and space, express movement, direction, reveal depth, and create surface pattern and texture. Her wire shadow sculptures amplify the lines in these reliefs and are designed to create both volume and visual confusion. Sturtz chooses a color palette for her sculptures that ranges from black or monochromatic to subtle colors, then extends into the realm of bold bright seemingly random colors.
Host: CAMIBAart Gallery, 6448 Hwy 290 E Suite A-102c
Dates: April 15 – May 15, 2021
Known for her porcelain creations, Dallas based artist Jen Rose found new inspiration in a Leclerc table loom she rescued from the curb while on a walk in her neighborhood last April.  Using knowledge gained about weaving from her days in college, she began experimenting with integrating weaving into her porcelain practice, and in the process created a brand-new body of artworks. The resulting exhibition "Since Last we Met" showcases her astonishing imagination and masterful technical skill while reflecting the uncertainty and ever-changing reality of the pandemic year in which they were created.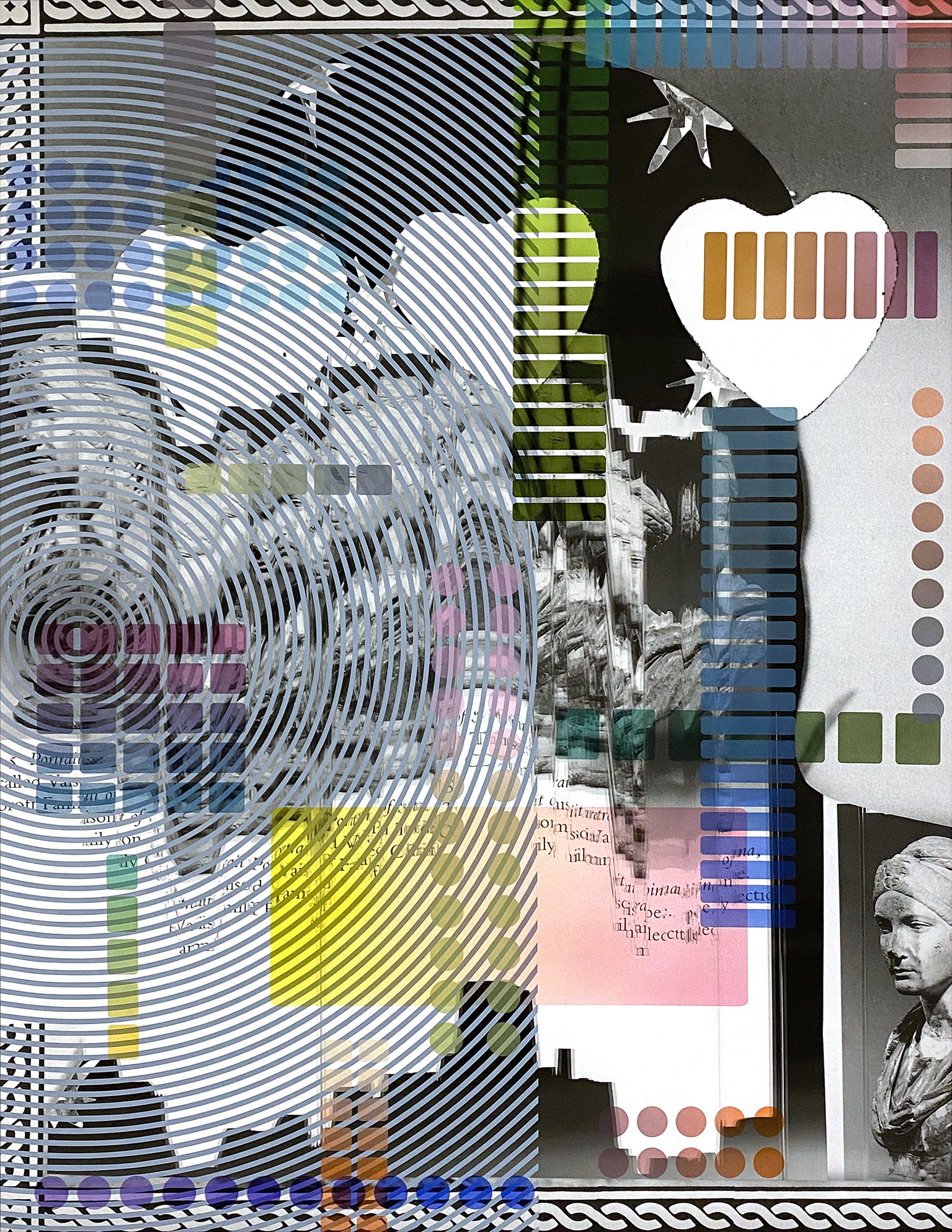 Host: Ivester Contemporary, 916 Springdale Rd, Bldg 2, #107
Dates: April 10 – May 15, 2021
Ivester Contemporary is excited to announce a solo exhibition featuring new work by Fort Worth-based artist Rachel Livedalen. it's kinda like that, weaves the joy, color, and design of 90's Girl Power with images and text pulled directly from Art History textbooks. Livedalen playfully challenges the hierarchy of the Arts by translating techniques associated with femininity and craft into the traditionally respected medium of paint on canvas. Scattered compositions of cutouts, stickers, and bright colorful shapes derived from makeup palettes and watercolor sets obscure black and white reproductions of Greco-Roman busts and descriptive lines of text. Her free-spirited approach to art making, paired with the exhibition's title, declares that all media and any subject matter can convey valuable ideas.
Host: Ivester Contemporary, 916 Springdale Rd, Bldg 2, #107
Dates: April 10 – May 15, 2021
Ivester Contemporary is pleased to present, A Body is a Cellular Network, a Cellular Network is a Body, featuring new work completed this spring by Katy McCarthy. In preparation for this exhibition, McCarthy handcrafted soft wax casts which depict parts of her own body that have been injured or experience chronic pain. She then shipped the casts to her mother, Robin, a chiropractor in California. Over Facetime, Robin conducted a remote bodywork session, during which she manipulated, massaged, held, and adjusted McCarthy's waxen body parts. The process functioned as both placebo and performance. The session is presented as an installation featuring the soft wax casts and a two-channel video in the gallery.
"In the lead up to making this work I was thinking about what it means to be in a long distance relationship with my mother. I also had a ceaseless two-week headache and yearned for her touch. The work came out of a place of need. I wanted to cultivate ways of being physically present while we are apart. Sending surrogate body parts to my mom was an attempt to satisfy this need. 
I'm interested in the importance of intention in healing. Different people call this different things: the placebo effect, energy work, etc. I've started to think about how you don't need to understand a healing modality for it to work on your body. " –Katy McCarthy
Host: ICOSA Collective Gallery, 916 Springdale Rd, Bldg 2, #102
Dates: April 9 – May 8, 2021
Alyssa Taylor Wendt and Brooke Gassiot present Vessel, an exhibition about inhabited forms. Through video installation, staged production stills, drawing, performance and sculpture, they examine the containers of spiritual and mnemonic residue. A sense of vitality and collective resilience comes through the work in a variety of forms. From garment to architecture to vessel, the pieces pull us closer while expanding the notion of our presence inside of time.

Host: grayDUCK Gallery, 2213 E. Cesar Chavez
Dates: April 9 – May 23, 2021
In barrioPOP, we see Cande's abstract expressionist's painterly experience with bright color fields and forms extruded through the Play-dough press of his 1970s and 80s popular culture upbringing. barrioPOP is an interconnected series of mixed media art installations, which represent various border town settings associated with a certain era and place, and it's filled with opportunity for nostalgia. Anyone who shares history or appreciation for the unique cultural amalgamation of post 1960s Americana will find much to enjoy in this modern pop art view cast from the southern tip of Texas.
Cande Aguilar was raised American and proud of it just like all the other Valley kids in the public schools in the 70s and 80s. However, he and all the other kids were also fully immersed in their Mexican heritage. Growing up in the Rio Grande Valley and being surrounded by Mexican culture colored all aspects of life including the American ideals being doled out generically on television and in movies. This perspective helped form the building blocks of Cande's barrioPOP art. This hybridization of ideas is the catalyst and the contextual components for his creations.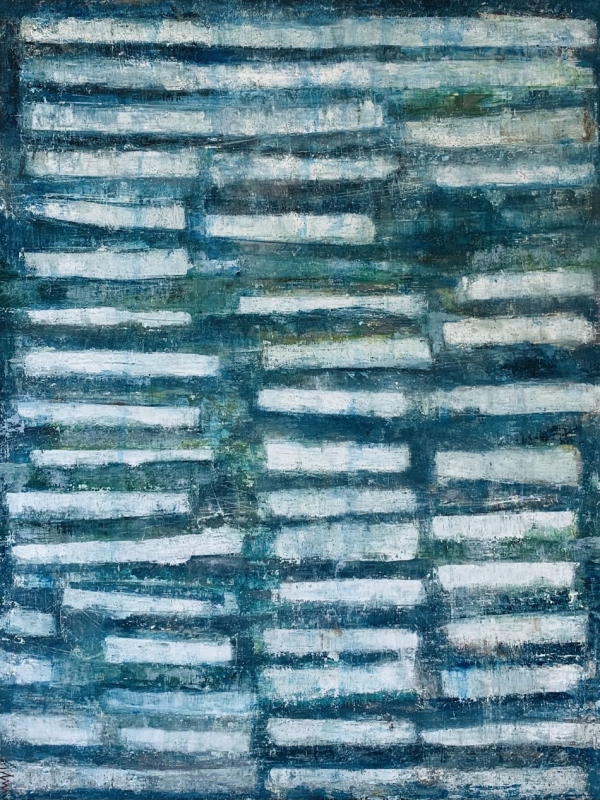 Host: Austin Fine Art Gallery, 2805 Bee Cave Road, Ste/ 430
Dates: April 9 – June 4, 2021
Small, select group of Austin area artists and their amazing, creative work.
Host: West Chelsea Contemporary, 1009 West 6th Street
Dates: March 13 – May 9, 2021
A sultry new art exhibition unlike anything Austin has seen before. Visually arresting and evocative, Provocateurs creates space for mystery by inviting the beholder to generate meaning and construct new context. Universal symbols – like beauty, fame, and conflict – are refreshed through a contemporary lens.

Host: Blanton Museum of Art, 200 E. Martin Luther King Jr. Blvd.
Dates: February 7 – May 9, 2021
The exhibition is drawn from acclaimed art historian and art critic Leo Steinberg's collection of approximately 3,500 prints, which was acquired by the Blanton in 2002. After Michelangelo, Past Picasso is the first exhibition to examine the impact of Steinberg's personal print collection on his scholarship and art criticism. Leo Steinberg was the rare art historian who turned his inquisitive eye and captivating prose to both Renaissance and modern art. His astonishingly wide-ranging scholarship addresses such canonical artists as Michelangelo Buonarroti, Leonardo da Vinci, Peter Paul Rubens, Pablo Picasso, and Jasper Johns.
Host: The Contemporary Austin-Jones Center, 700 Congress Ave
Dates: January 23 – August 15th, 2021, reserve tickets here
Deborah Roberts (American, born 1962 in Austin, Texas) critiques notions of beauty, the body, race, and identity in contemporary society through the lens of Black children. Her first solo museum presentation in Texas, I'm, is part of The Contemporary Austin's participation in the Feminist Art Coalition, a nationwide initiative of art institutions to generate awareness of feminist thought, experience, and action through exhibitions and events.
Host: The Contemporary Austin-Jones Center, 700 Congress Ave
Dates: January 23 – August 15th, 2021, reserve tickets here
Torbjørn Rødland (born 1970 in Stavanger, Norway) works with analog technology and readymade spaces to create photographs that render the everyday uncanny. His images blend the cool, seductive aestheticism of commercial and fashion photography with the layered complexity of a conceptual practice, resulting in ambivalent perspectives that both attract and repulse. This contradictory stance is intentional, the artist's careful positioning of his work within a fugitive field. From the media-savvy reality critique of 1980s Pictures Generation–era artists, à la Cindy Sherman and Richard Prince, to the seemingly captured moments of Nan Goldin and Larry Clark or the rigorous conceptualism of Christopher Williams and John Baldessari, practitioners working in photography in recent decades have sought to upend notions of authorship and originality in representational imagery while grappling with the concerns of conceptualism within a medium that is inherently grounded in reality. Concurrently, the advent of digital photography has both expedited and removed uncertainty from the process, rendering the analog formats Rødland uses a specialization.
Host: The Art Galleries at Black Studies: Christian-Green Gallery, 201 East 21st St. Austin, TX 78751 |  Beauford H. Jester Center A232A

Dates: January 21 – May 14, 2021
Collecting Black Studies: the Exhibition takes cues from the Art Galleries at Black Studies' recent publication, Collecting Black Studies: The Art of Material Culture at the University of Texas at Austin. As with the publication, this exhibition is organized around four central themes—abstraction, identity, resistance and transition. Each section is thoughtfully contextualized with short written passages penned by Professor of Art History Eddie Chambers. Some of the works on view are featured in the publication, and others are recent acquisitions we are pleased to present for the first time in the Christian-Green Gallery.
Host: The Art Galleries at Black Studies: Idea Lab, 210 West 24th St. Austin, TX 78705  |  Gordon White Building 2.204

Dates: January 21 – May 14, 2021
"with new eyes…"  features new works by Austin-based artist Adrian Armstrong. The drawings and mixed media works explore the intersection of traditional portraiture and representations of Black people, just as they consider the mercurial nature of identity—particularly as it relates to race and gender.
Host: Mexic-Arte Museum, 419 Congress Avenue

Dates: December 19 – May 30, 2021
Mexico, the Border and Beyond: Selections from the Juan Antonio Sandoval Jr. Collection will be the first major showing of this collection in Austin. The Sandoval Exhibition is organized into four areas: 1) Passion of a Collector; 2) Life and Experiences in the U.S./Mexico Borderlands examines cultural history and social issues of the border represented by artists in the El Paso/Juárez U.S. Mexico border region. Artists include well known individuals such as Marta Arat, Manuel Carrillo, Jose Cisneros, Francisco Delgado, Gaspar Enriquez and Luis Jimenez; 3) Mexico: A Second Home showcases artworks by Manuel Acosta, Jose Cuevas, Rodolfo Morales, Francisco Toledo, Nahum Bernabé Zenil and Francisco Zuniga many that were acquired by Mr. Sandoval during  his summer trips to Oaxaca; 4) Beyond presents notable artists living and working outside the El Paso borderlands, such as Alejandro Romero, Esteban Sanchez, Kathy Vargas and others.
A large part of the exhibition is dedicated to the artworks focusing on the Life and Experiences in the U.S./Mexico Borderlands. This part is divided into five themes: Creating a Border; Land, Fauna, and Allegories; I am Immigrant You Are; Immigrant Dream and Nightmare; and The Culture Continues/La Cultura Sigue. The Sandoval Collection represents the unique history and culture of the borderlands or la frontera. Additional programs include an online exhibition on the borderlands, a series of online virtual humanities programs with scholars who will speak about the Borderland Experience; and educational tours will be produced to engage and educate the community.

Host: Blanton Museum of Art,
200 E. MLK Jr. Blvd.
Dates: October 17 – May 16, 2021
Diedrick Brackens constructs intricately woven textiles that speak to the complexities of Black and queer identity in the United States. Interlacing diverse traditions, including West African weaving, European tapestries, and quilting from the American south, Brackens creates cosmographic abstractions and figurative narratives that lyrically merge lived experience, commemoration, and allegory. He uses both commercial dyes and unconventional colorants such as wine, tea, and bleach, and foregrounds the loaded symbolism of materials like cotton, with its links to the transatlantic slave trade.
Host: The Contemporary Austin-Laguna Gloria, 3809 West 35th Street

Dates: Ongoing
The Contemporary Austin's Betty and Edward Marcus Sculpture Park at Laguna Gloria is named in honor of a founding grant by the Edward and Betty Marcus Foundation. This contemporary art destination presents exhibitions and permanent outdoor art installations on a site of great natural beauty on Lake Austin.
A complement to the Jones Center, The Contemporary Austin's downtown location, the Betty and Edward Marcus Sculpture Park at Laguna Gloria is committed to a vibrant, engaging program of exhibitions alongside thoughtful land stewardship. The Edward and Betty Marcus Foundation's gift allows for the commissioning, exhibition, and acquisition of new works of art by leading international contemporary artists as well as the preservation of the works and Laguna Gloria grounds. The gift celebrates Betty Marcus's great passion and vision for the arts, especially in outdoor settings.
With diverse ecology—including woodlands, meadows, gardens, and waterfront and a rich array of flora and fauna—Austin's historic Laguna Gloria is a precious reserve of natural beauty, and a welcoming art-in-nature site, in the heart of the city.
Upcoming
Host: Flatbed Center for Contemporary Printmaking, 3701 Drossett Drive, Ste 190
Dates: May 8 – July 3, 2021
An exhibition of works from Flatbed's archives where one will find old friends and lots of surprises. Showing a sneak peeks of someone you might find here: Dan Rizzie (untitled, chine collé monotype, 1993, shown above.) Our inventory includes prints created during our thirty plus years of operation. We're bringing out some stunning framed works from our "way back" room. It's not exactly a retrospective but it is a walk into the past.
Host: ICOSA Collective Gallery, 916 Springdale Rd, Bldg 2, #102
Dates: May 10 – May 17, 2021, on view 24 hours a day
Unruly Waters Insult the Shore, by Big Chicken and Baby Bird, explores ideas of blurred boundaries and futility of containment by depicting the grotesque as the embodiment of conflict between art and nature. Patterns become the spells that open the fictive portals through which the grotesque is observed, confined to and defined against the beauty of an imagined world, where there exists a place they can be works of nature, works of art, or both at the same time.
Host: Big Medium, 916 Springdale Rd, Bldg 2 #101

Dates: May 15 – June 26, 2021
EPCOT: Experimental Prototype Community of Tomorrow borrows its name from the homonymous Disneyland's recreational park in Florida (US), first named "Progress City" and conceived as a settlement in which there would be pavilions where residents and visitors could learn about things such as technology, the oceans, communication, energy, and space. The works presented in this exhibition are imbued by an association between the latter's subjectivities and the critical condition of Guerreros del Mar (Tamaulipas, Mex). This parallelism frames technological advancement as a truncated symbol of progress pervading in late capitalism, as a systemic spectacle in which the mere act of contemplating connotes a hierarchical structure where the audience is predetermined to passivity. EPCOT: Experimental Prototype Community of Tomorrow alludes to the political irony embedded in the potential fact that Guerreros del Mar, a community economically dependent on a biosphere that now is endangered by the environmental impact caused by the detrimental engine noise of SpaceX's spacecraft, is on the verge to become a sighting touristic destination from where to witness the frequent lift offs persuading what once was only thought as fiction: an industrialized outer space. Furthermore, EPCOT: Experimental Prototype Community of Tomorrow proposes a critical ground from where to think about the ambivalence implicit in the industrialization of space mediated through speculative frontiers, supported by colonial narratives in which the other remains invisible.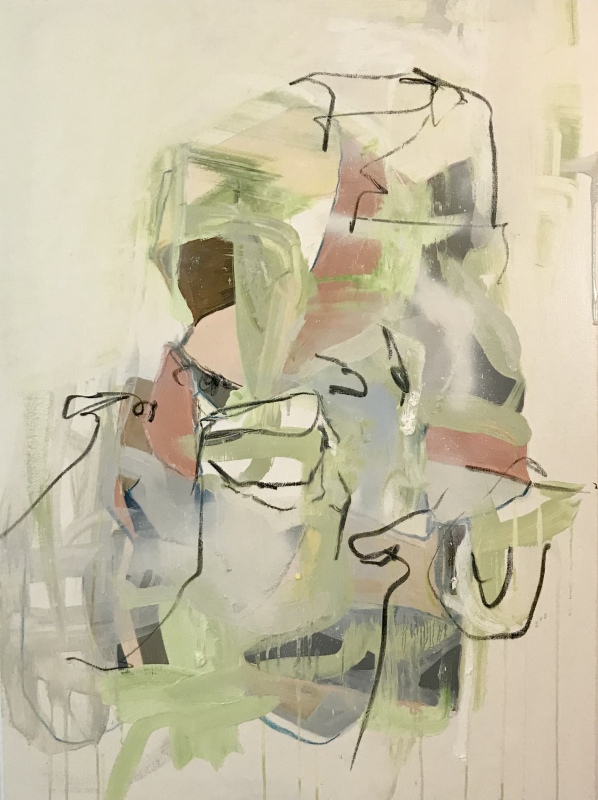 Host: Wally Workman Gallery, 1202 West 6th Street
Dates: June 5 – July 3, 2021
On Saturday, June 5th Wally Workman Gallery will open their seventh solo show with abstract painter Diana Greenberg. Inspired by small sculptures created from discarded painted material in the studio, Greenberg explores three-dimensional twists and turns of color on a flat plane. Her works also have a botanical inspiration. Forms from cut flowers she keeps in her studio are showcased in her paintings and the hues from these lush florals become prisms of color amidst a solemn gray. Her palette is also informed by twilight, with the recent works on paper based on paintings by Monet of dusk and dawn on the Seine. Using color, stroke and mark-making, Greenberg creates a feeling of light and hope, joy and serenity.
Black Is Beautiful: The Photography of Kwame Brathwaite
Host: Blanton Museum, 200 E Martin Luther King Jr Blvd
Dates: June 27 – September 19, 2021
In the late 1950s and throughout the 1960s, Kwame Brathwaite (b. Brooklyn, 1938) used his work to popularize the political slogan "Black Is Beautiful." This exhibition, the first ever dedicated to Brathwaite's remarkable career, explores Brathwaite as a key figure of the second Harlem Renaissance.
Organized by Aperture Foundation in partnership with Kwame S. Brathwaite, Brathwaite's son and Director of the Kwame Brathwaite Archive, the Blanton's presentation features more than 40 photographs, most shot in Harlem and the Bronx, accompanied by contemporary jewelry and clothing, album covers, and reproductions of vintage posters.
Brathwaite's photographs document the stories of the Black men and women who changed the political and cultural landscape by challenging notions of beauty and disenfranchisement. In the preface to the publication accompanying the exhibition, Brathwaite, who diligently preserved his photo negatives, remarks, "There's so much history that must be made, so much to share. As the Keeper of the Images, my goal has always been to pass that legacy on and make sure that for generations to come, everyone who sees my work knows the greatness of our people."1
The exhibition is accompanied by the first-ever monograph dedicated to Kwame Brathwaite. Featuring in-depth essays by Tanisha C. Ford and Deborah Willis and more than 80 images, Kwame Brathwaite: Black Is Beautiful (Aperture, 2019) offers a long-overdue exploration of Brathwaite's life and work.
Suzanne Bocanegra: Valley 
Host: Blanton Museum, 200 E Martin Luther King Jr Blvd
Dates: June 27 – September 19, 2021
Suzanne Bocanegra's Valley is a multi-channel video installation of eight women simultaneously reenacting Judy Garland's wardrobe test for the movie Valley of the Dolls (1967), based on Jacqueline Susann's best-selling novel of the same name about women undone by pills and show business. Since Susanne had drawn on details from Garland's real-life struggles with drugs and men, she was cast in the film adaptation to give it authenticity. Fired after only a few days of filming, Garland took the costumes with her and wore them in concerts until her death from a barbiturate overdose in 1969.
The wardrobe test is the only footage of Garland from the film that survives; in it, she poses and turns at the bidding of an off-screen director, uttering the occasional nervous quip. Despite having grown up a star, she appears self-conscious and unsure of herself in front of the camera. "Garland wasn't really acting in the wardrobe test for Valley of the Dolls, but in a sense, she was," said Bocanegra. "She was trying hard to convince the director and crew that she was still dependable, trying to hide her exhaustion and fragility, performing the role of 'Judy Garland.' The exhaustion and fragility are what we end up seeing. I wanted to reframe it by casting these eight powerful women, using their strength to spotlight the exploitation of women in film and popular culture."
Valley debuted in 2018 as part of a solo exhibition at the Fabric Workshop and Museum.